The rights of Lesbian, Bisexual, Transgender, Queer and Intersex (LBTQI) community members to freely express their full identities and live free from violence have become critical rights to protect for many movements, including feminist movements. In our last call for proposals in 2015, FRIDA received 34 applications from groups whose primary focus area is LBTQI rights.
Since its inception in 2012, FRIDA has operated according to the principle that diversity in experience, identity and opinion are critical to achieving feminist values. Many mainstream LBTQI movements continue to structure themselves in a cisnormative manner, where leadership is largely Western, older, cisgender and male. In response, one of FRIDA's funding priorities has been to fund groups led by young women and trans youth whose work specifically addresses LBTQI issues. To date, FRIDA has supported youth-led groups working on LBTQI rights in the Global South with USD 107, 214.
Continuing our series of impact reports, the last one being launched in December 2015 on early and child marriage, we are happy to launch our second impact report that looks closely at  the challenges, strategies and impact of FRIDA's LBTQI grantee partners on an iconic day: May 17, the International Day against Homophobia, Transphobia and Biphobia.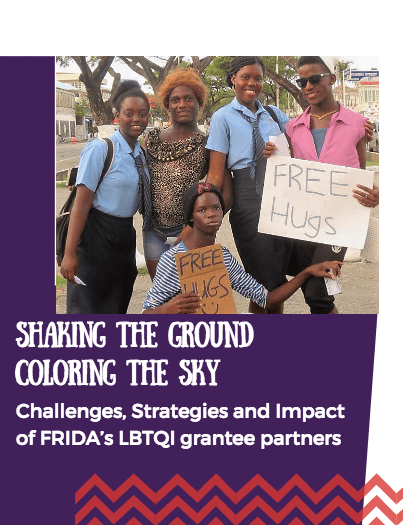 In the countries where they operate, FRIDA's grantee partners are among the only organisations that identify as feminist and/or maintain a focus on LBTQI rights. They are sometimes the only ones training LBTQI persons on their rights, creating safe spaces for expression and self care, and advocating for their political and social emancipation. FRIDA grantee partners' diverse strategies, impact and bravery in the face of hostile environments continues to reinforce FRIDA's commitment to supporting groups working on LBTQI rights.