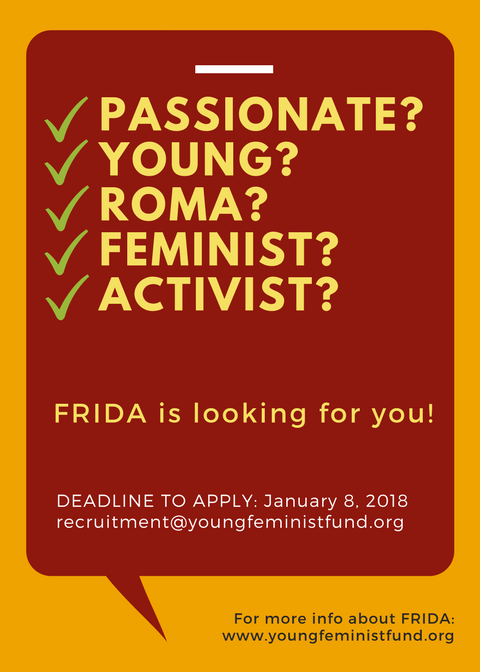 Deadline for application: January 8th, 2018
Location: Europe (home-based)
Duration: 3 months
Who we are?
FRIDA | The Young Feminist Fund is a young feminist-led initiative that funds and strengthens the participation and leadership of young feminist activists globally. FRIDA was created to bring new resources and opportunities to young women and transgender youth globally. We believe that supporting young feminists is key to the expansion, rejuvenation and sustainability of women's movements and organizations. FRIDA provides funding to youth-led initiatives in Latin America and the Caribbean, The Middle East, Africa, Asia & Pacific and Eastern Europe and Central Asia.
Role Description 
FRIDA is seeking a passionate and creative Roma intern to support our programmatic work. This includes supporting FRIDA grantee partners in  Europe, supporting FRIDA's capacity development initiatives and grant making processes. This dynamic position provides an excellent opportunity to support young Roma women's rights activists from Europe and increase your understanding of all elements of program coordination.
Responsibilities
Work on Capacity Development initiatives for FRIDA Grantee partners, including supporting the planning of online workshops, developing workshop content and supporting coordination of FRIDA capacity development events and evaluating their success.

Maintain key data on FRIDA grantee projects and profiles.

Assist with program updates, proposals, reports and documentation, and support regular communications to FRIDA grantee partners.

Support monitoring and evaluation of the Funds activities.

Research specific issues and policy debates affecting Roma women, and strategies related to young Roma feminists.

Support FRIDA staff to establish key relationship and networks with relevant Roma partners in Europe, including researching Roma organizations working on women's human rights, LGBTQ rights, young women and youth organizing.

Monitor key debates and opportunities for FRIDA staff and grantees to engage  in strategic countries and spaces.

Provide administrative support to FRIDA staff.

 
Knowledge, Skills, and Abilities required
Proactive, creative and with interest to work on programs on gender, human rights, youth, activism or development

Strong interpersonal and communication skills and the ability to work effectively with a wide range of constituencies in a diverse community

Experience in working with Roma organizations, communities or informal groups

Bachelor's degree in a relevant field of study for the internship or equivalent experience/education; graduate degree desirable

Good working knowledge of English (both Oral and Written)

Knowledge of the Romani language and other languages where FRIDA works is an advantage
An ideal intern would be:
Passionate young Roma feminist activist (under 30) with a strong commitment to women's and trans* rights, and gender equality.

Independent and self-reliant, willing to take initiative, creative, hardworking, and flexible.

Be comfortable working in a virtual environment and have reliable internet access.

Able to commit

at least

15 hours per week over a three-month period. We are open to discussions of alternative timeframes and can be flexible.
Remuneration: This Internship will be supported by Open Society Roma Initiatives Office which will cover a stipend and travel costs.
To Apply: Please send your CV along with a letter outlining why you would like to intern for FRIDA and how the internship fits to your future aspirations and activism. Please write Roma Program Intern in the subject of email end send your documentation to recruitment@youngfeministfund.org before January 8th, 2018.
Applications are welcome from candidates from Europe.