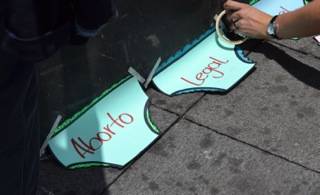 Founded in 2008, Salud Mujeres provides free and timely information to Ecuadorian women on how to safely terminate a pregnancy using medication to prevent unnecessary deaths of women resulting from unsafe, clandestine abortions. Their hotline enabling women to make informed decisions about their lives and bodies is the first one of its kind in Latin America. In November 2013, Salud Mujeres joined the ranks of FRIDA grantees with a new project, an "artistic traveling caravan" to spread information and raise awareness on safe abortion through theatrical performances, movie screenings, and other forms of information dissemination in five cities across Ecuador.
We asked Anais Cordova-Páez, member of Colectiva Salud Mujeres, about their work, motivation, challenges, and feminism.
Can you share with us the story of Salud Mujeres and the work you do?
We are a group of young women offering a specific solution to a specific problem: beyond political involvement and the legal struggle to decriminalize abortion, we provide information on performing a safe abortion with medication, at home. Regardless of the laws punishing us—women—for our autonomous decisions, we are here with a real alternative.
Throughout our existence, we have begun to tackle other issues as well, including violence against women, femicide, and other forms of oppression of women. Furthermore, we focus on other program areas, such as communications and research, to broaden the ways in which we impact civil society to art, radio, statistics, workshops, etc. We believe in women and we are committed to protect our rights.
Salud Mujeres was established in 2008. During the five years of your work so far – what have been your biggest achievements and what have been the biggest obstacles you faced?
Because we live in a sexist society that seeks to legislate our wombs, Salud Mujeres have encountered many obstacles; but throughout the years, we have kept working to provide information to women and fight for their rights. One of the biggest problems we have faced was the illegal closure of the hotline in 2010. As we were never informed on what legal grounds was this closure based, we had to seek legal counsel.
Furthermore, the lack of financial resources has been a huge obstacle preventing us from realizing many of our ideas on the scale that is necessary. However, we keep fighting the struggle, creating and sharing new ideas and information, every day, all year long, despite all this; and that has been one of our biggest achievements.
Your organization has joined the ranks of FRIDA grantees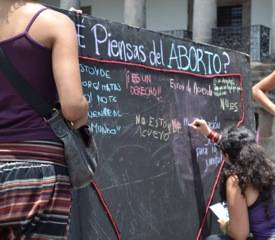 last year. What activities have you carried out with FRIDA's support and what are your plans for 2014?
We are currently organizing activities for 2014. This involves logistics for the caravans, all the necessary materials, and summoning the people who are joining us in the caravan's activities.
Why is this important?
These initiatives are necessary because they create a direct contact with people; this promotes dialogue and leads to reflection.
Salud Mujeres provides information on access to Misoprostol. How difficult is it to access Misoprostol and what are the legal implications for you, those who provide access to Misoprostol and those who buy it, if the Ecuadorian law permits abortion only when the life or health of the mother are at risk, or in cases of rape for mentally handicapped women?
Unfortunately, it is increasingly difficult in our country to access Misoprostol. However, women manage to find it, one way or another. Providing information through our hotline is legal; our group doesn't sell Misoprostol, we only provide information based on the WHO protocols so that the procedure itself is carried out correctly.
Last year, President Rafael Correa said that he would resign if the National Assembly decriminalizes abortion. Has this affected your work in any way?
Our work has not been affected because what we do isn't illegal in Ecuador. We respond to the reality that shows it is no longer legitimate to keep these things illegal: women make decisions about their bodies and lives with or without the support of the law. However, abortion is the second leading cause of maternal death in Ecuador and the laws must respond to the needs of Ecuadorians.
Are there population groups that suffer from low access to information on abortion and reproductive health more than others, such as indigenous groups? If so, who are they and what do you do to change the situation?
Ecuador is a very diverse country with different ethnicities and cultures in different regions. In 2013, together with the Youth Policy Coordinator, a Misoprostol rally was held in seven provinces to disseminate information on safe abortion. This enabled us to understand the differences between the regions and to open a new door for information exchange with these women's groups.
Last, but not least: what does feminism mean to you and how does it affect the work of Salud Mujeres?
Feminism is my philosophy that is reflected in everything I do every day. It is the struggle of women, and the society in general, to achieve equal rights and opportunities; to accept everyone's demands and differences; to transform ourselves into individuals, not just mere objects, changing the patriarchal system we live in. Feminism is a quest for change, an action, a reflection. It is the fight for decriminalization of abortion and for the rights of women. For me, feminism is to be accepted as a human being in a world that wants us to be just objects of consumption.
Salud Mujeres is a feminist group because we believe in women and our decisions, because we believe in changing the world and every day, we, the young women who form this group, wager this space as our field of action for the change we seek of diversity and autonomy.
Do you have questions about the work of Salud Mujeres? Let us know in comments or connect with us on Facebook or Twitter! You can also help by signing YoSoy65 petition seeking justice for women in Ecuador.
Posted by Barbora Němcová