Lea nuestra declaración en español
Over the past couple of weeks, thousands of people in Colombia have taken to the streets of several cities, including Mendellín, Bogotá, Pasto, Barranquilla and Cali, to protest against tax reforms presented in 2019 and 2021 in addition to a 2020 health reform bill proposed by President Iván Duque Márquez and his cabinet which is affiliated with the conservative and right-wing Centro Democrático party. The reforms were touted as having the potential to strengthen Colombia's struggle against the COVID-19 pandemic, even though they included tax increases for basic services, such as energy. Protesters are also demanding COVID-19 vaccinations, universal basic income, respect for democracy and human rights, demilitarization of the cities, labor rights and the shutdown of the Mobile Anti-Disturbances Squadron.
The government has responded to these demands and demonstrations with severe repression. According to Colombian civil society, as of May 5 2021, there have been 1708 cases of police brutality, including 37 victims of homicide, some of whom were teenagers, 831 arbitrary arrests, 110 cases of gun firings and 10 victims of sexual assault by law enforcement and military forces. These numbers continue to increase daily and most probably do not reflect the extent of the violence due to under-reporting. There have also been denounciations of hit-and-runs, cases of torture and enforced disappearances.
Organizers have criticised the national media for failing to accurately report on the protests, by delegitimizing them as riots. Women's rights organizations from the cities of Cali and Bogotá have also reported that young women are being detained and subjected to sexual, psychological and physical violence such as being dragged by their hair, threatened with rape and having their breasts groped, amongst other aggressions. In addition, human rights organizations from Colombia have been reporting censorship of social media posts with content showing flagrant human rights violations. They blame authorities for violating the right to expression by limiting protesters' access to the internet as a strategy to quell dissent and make the international dissemination of reports of abuses more difficult.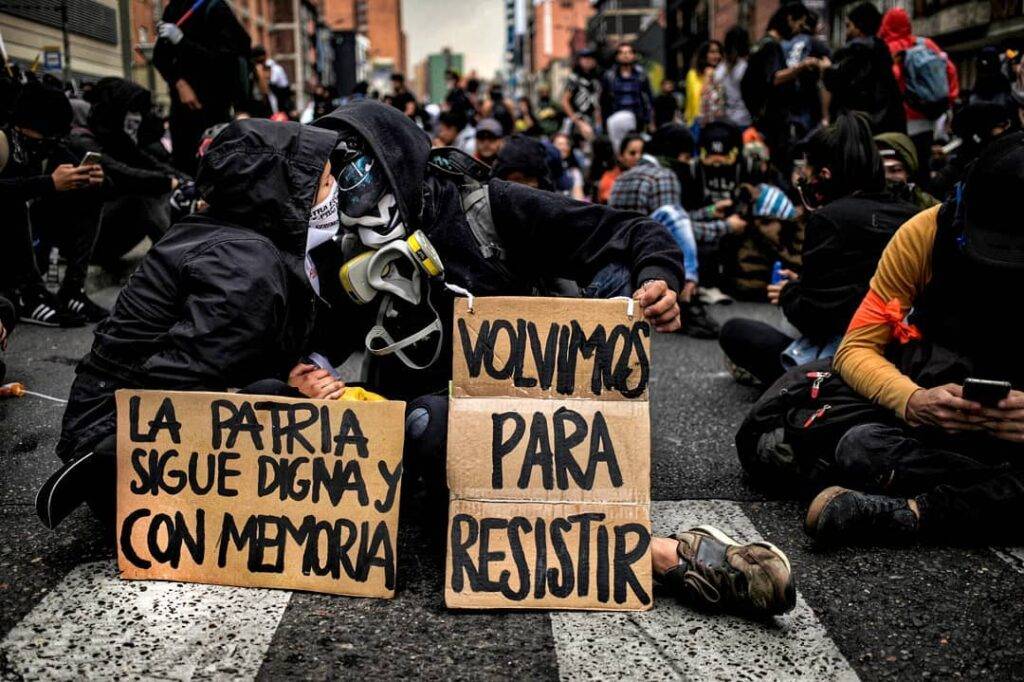 As a donor dedicated to supporting girls, young women, intersex, trans and gender non-conforming young people in the Global South, FRIDA | The Young Feminist Fund condemns this state sanctioned violence and stands in solidarity with the young people on the frontlines demanding rights. The same youth who are are facing aggression by those who should be responsible for ensuring their human rights in first place. From Myanmar, to Senegal, to Poland, to the United Kingdom and now Colombia, we have been witnessing groups of largely young people demonstrating for freedom and against inequalities, oppression and government excesses only to be met with violence, repression, persecution and threats.
We call on our peers in the international philanthropic community to take a collective stand against state repression and to urgently make flexible resources available to human rights defenders to be used in self and collective care, holistic security, legal defense efforts, movement strengthening and bringing visibility to human rights abuses.
The international community, including international human rights bodies such as the Inter-American Commission on Human Rights and the Office of the United Nations High Commissioner for Human Rights as well as foreign governments must increase exerting diplomatic pressure on the Colombian government until there is an immediate stop to the human rights violations against protesters.
We also call on the international media to pay close attention to the situation in Colombia by listening to and amplifying the voices of activists who are on the physical and digital frontlines in all their diversity.
Finally, in addition to acceding to the popular demands of protesters, we call on the government of Colombia to immediately stop the excessive use of force, to immediately and unconditionally release protesters from prison, to drop all criminal charges against them and to ensure the rights to life, security, protest, freedom of association and expression, as well as respect access to information.
Although President Duque's tax reforms are now off the table, COVID-19, which has to date caused 75.000 deaths in Colombia, continues to disproportionately impact specific groups like the rise of violence against girls, women and LGBTQIA+ people and growth in poverty and unemployment rates. In the midst of the most devastating health crisis in a century, it is the Colombian authorities' role to protect its people, not to further brutalise them as they continue to battle the pandemic.
To keep updated on the developments in Colombia and to amplify the wants and needs of those activists at the frontlines, follow #SOSColombia on Twitter.