Since our inception thirteen years ago, FRIDA has been committed to catalyzing young feminist activists with the resources that sustain their movements, rooted in a collective participatory grantmaking process. This has allowed us to learn together with activist communities across the global majority and co-create knowledge, expertise, and solutions together.
Our 8th call for applications in 2022, culminated in the induction of 98 new grantee partners from 57 countries and we are thrilled to not only welcome them to the FRIDA community but to introduce them and their transformative work to you. In this moment of global devastation, we acknowledge that young feminist activists have always been and continue to be beacons for change in social justice movements, even in the face of desperate hopelessness.
The "Taking Flight" Zine was a collective labor of love that was brought to life by the designs of young feminist artists Xala Ramesar, Vidushi Yadav, and Julia Mousquer. It illustrates the vibrance, vision, and irrepressible dreams of the activists who are organizing to dismantle systems of oppression around the world. As you move through this zine, which is available in 6 languages, you will not only learn about the new FRIDA grantee partners and their work but also read love notes that they have written in gratitude to those who have voted for them in the participatory selection process.
---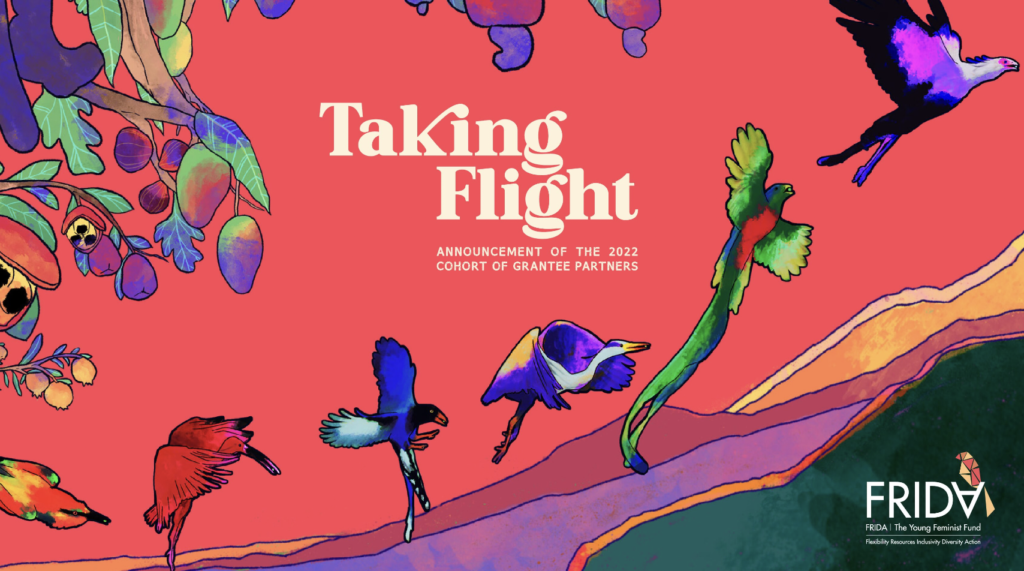 ---
---
FRIDA received more applications than ever in the 8th call for proposals, indicative of the increased need to fund emerging young feminist movements. These activists are working and living in contexts where their bodily autonomy and planet are under constant attack. And yet, they continue to show up and fight back. The newest cohort of FRIDA grantee partners features an increased number of groups focused on LGBTQIA+ rights, disability rights, climate justice, and abortion access, representing priority issues that were determined by the groups who participated in the voting process.
---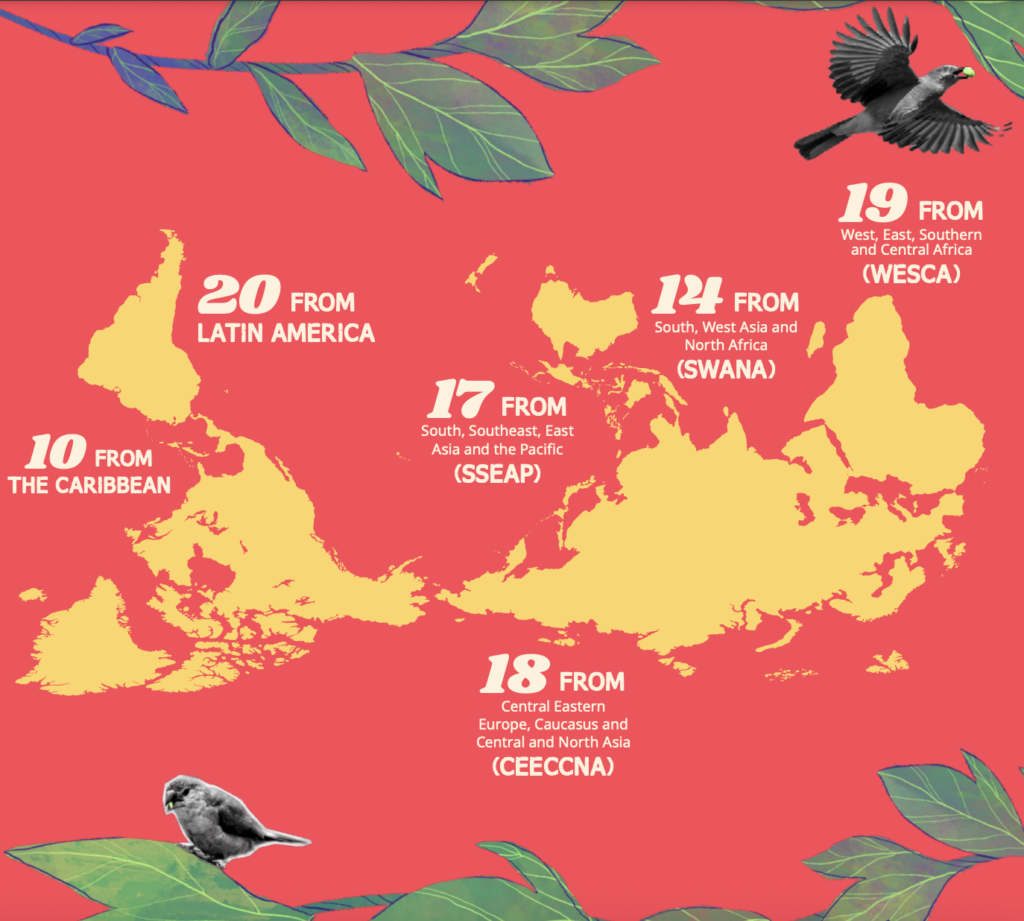 ---
Engaging in and committing to co-creation isn't a straightforward process and there are complexities that must be navigated together with collective effort. We move forward, driven by our will to build a world that holds our diversity and is rooted in care that inspires us to keep flying; carrying seeds so that new worlds can be planted. As the new grantee partners take flight on this journey within the FRIDA community, we celebrate everyone who has been part of our participatory grantmaking process.
FRIDA holds an ineffable amount of admiration and gratitude to all who participated in this process, which is a manifestation of the power of collective action and its potential to transform our communities and world. Below is our love note to all of the groups, collectives, and networks who played a role in this huge undertaking:
"We are very grateful for all the energy and trust you put into this process. Your work has not gone unnoticed. May your continued efforts inspire us all to listen more deeply, act more boldly, and work together toward a more just, diverse, and fair world. Just as the wind carries seeds to new places, so too do the ideas and visions you brought to this process have the power to inspire and transform our communities."
Acknowledgements:
Design – Xala Ramesar, Vidushi Yadav, Julia Mousquer
FRIDA Staff:
Grantmaking team: Veronica Veloso, Paige Andrew, Khensani Nhambongo
Communications lead: Maame Akua Kyerewaa-Marfo
Communications support and dissemination: Amanda Hodgeson, Ro-Ann Mohammed