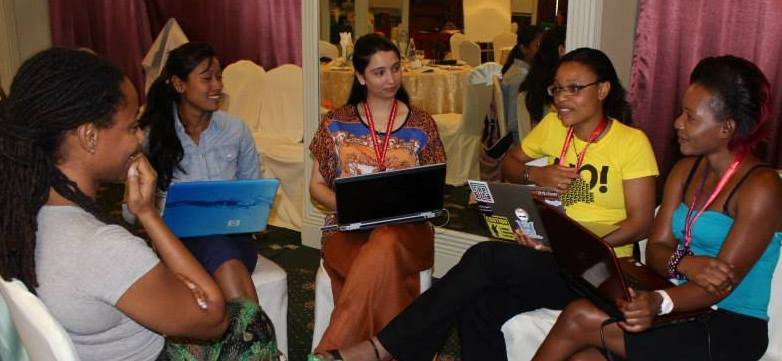 What happens when more than 35 young feminists from all over the world get together in the same room? Strong connections are formed, ideas are exchanged, plans are made, skills are shared, and much more. This is what happened during the Young Feminist Convening organized by FRIDA | The Young Feminist Fund, in partnership with Just Associates (JASS), Association for Women's Rights in Development (AWID), and Women Win in Thailand during 27-29 May, 2014.
As a global movement, creating opportunities for activists to meet one another is critical for fostering a common spirit, building alliances, and advancing a shared global agenda for gender equality. This is a core part of FRIDA's mission.
The convening brought together representatives from 25 groups that FRIDA currently funds across 22 countries in 5 regions, as well as 8 young feminists from JASS's activist network in South East Asia. The primary languages used were English, Spanish, and French, however there was also participation in Filipino, Vietnamese, Arabic and Khmer, making for an extremely culturally and linguistically diverse meeting.
The Convening was a unique experience for everyone involved. For the first time ever, both cohorts of FRIDA's two grant cycles from 2012 and 2013 came together in a face-to-face meeting. This is the second convening FRIDA has ever held – the first being in Istanbul before the 2012 AWID Forum.
Additionally, the Convening was a great example of the power of bringing multiple networks together through strategic partnerships with other global feminist organizations. Everyone in the room brought something to share:
Through Regional Solidarity Lunches, the activists were able to discuss common themes and challenges in their shared contexts, while swapping solutions and ideas for joint initiatives.
JASS facilitated a session on the forms and dynamics of power – especially shadow power – to breakdown the common root causes and manifestations of inequality and discrimination.
Women Win held a day-long workshop on audio storytelling to develop, capture, and produce stories of change, as told by activists themselves. You can listen to some of the stories that were produced here!
AWID and FRIDA co-facilitated a discussion on resource-mobilization for the feminist movement, looking at one's personal relationship to money as well as the challenges and opportunities facing the overall movement. We reviewed the recent findings from AWID's Where Is The Money for Women's Rights research.
There were three grantee-led workshops on digital security, feminist graffiti, and Islam and young feminism.
Always trying to maximize our resources – immediately following this convening, FRIDA supported all participants with the opportunity to attend the Second Asia Pacific Feminist Forum organized by the Asia Pacific Forum on Women, Law, and Development.
In addition to all these activities, some of the most important time that was shared also took place late at night in each other's rooms, over coffee and drinks, while exploring the city, and dancing out under the rain. For many, the chance to gather in a safe and open space is rare, and this is one of the reasons this work is important for taking care of the activists' soul and energy. As one participant shared:
"All the participants were amazing, exceptional, young feminists I can relate to. It was nourishing in many ways, politically and personally."
If you are interested in learning more about the Convening itself, please stay tuned for the full Convening Report that we will share soon! Sign up to our newsletter to get the news hot off the press.
Don't forget to have a look at our Facebook photo album and stay tuned for  videos!