On this Trans Day of Remembrance (TDOR), FRIDA joins together with the young feminist community to bear witness and honor the lives of the trans people amongst us whom we have lost to violence and discrimination. This day is a somber reminder of the continued threats and injustices faced by trans people worldwide.
Today, as we remember the lives lost, we also honor the resilience, strength, and leadership of young trans activists who stand at the forefront of disrupting societal norms, advocating for rights, and fighting for intersectional justice. Their contributions to the feminist movement are invaluable, and we recognize the pivotal role they play in contributing to our collective visions for a world free of violence, discrimination, and oppression. The struggle for trans justice is deeply intertwined with and inseparable from the broader feminist struggle.
The lives we honor this Trans Day of Remembrance are a stark reminder that the work is not done and that there remains an urgent need for a better world. Trans youths, particularly those on the margins, face disproportionate levels of violence and discrimination, often perpetuated by interlocking systems of power and privilege. This reality demands our collective commitment to dismantling these oppressive structures.
Today is thus a call to action for all of us to confront and challenge the systems that perpetuate violence and discrimination against the trans community. FRIDA reaffirms its unwavering commitment to supporting the trans movement. We will continue to resource and uplift trans youth-led organizations and collectives, amplifying their voices, providing them with the resources they need, and working tirelessly to dismantle the harmful narratives propagated by the anti-gender movement.
We stand ready to invest in a future where trans youths can thrive and live with dignity, free from fear and violence. Together, we can create a world where we all can live authentically, without fear, discrimination, or exclusion.
As a fund for young feminists, FRIDA recognizes the urgent need for funders to center trans people as the experts on what they need to thrive as well as to move more and better resources to support trans people, particularly those at the margins such as young, black, indigenous and sex worker trans people. With this in mind, FRIDA has developed a ✨Strategy for Resourcing and Engaging Young Trans Feminist Movements.✨
This strategy was developed to support FRIDA's journey to better resourcing and engaging with trans-led and centered groups, including FRIDA grantee partners and the broader trans movement. Through it, we hope not only to improve how we, as a funder, show up for the trans movement but also to inspire other funders in their processes.
---
To acknowledge and commemorate this day, we interviewed Armario Abierto, a FRIDA grantee partner based in Manizales, Colombia, to learn from their perspective on remembrance.
In their reflections, Amario Abierto held space to acknowledge the legacies of some of their cherished community members who have been stolen from this world due to trans violence with impunity; Toco Toco, Marcela Bedolla, Johana la Abuela, La Galleta, Aunt Lucy, Aunt Peluca, Sabrina, Evelyn. Their responses below, shared in Spanish, delve into the reality of grief that comes with this reality along with an acknowledgment of their resistance, strength, and love.
---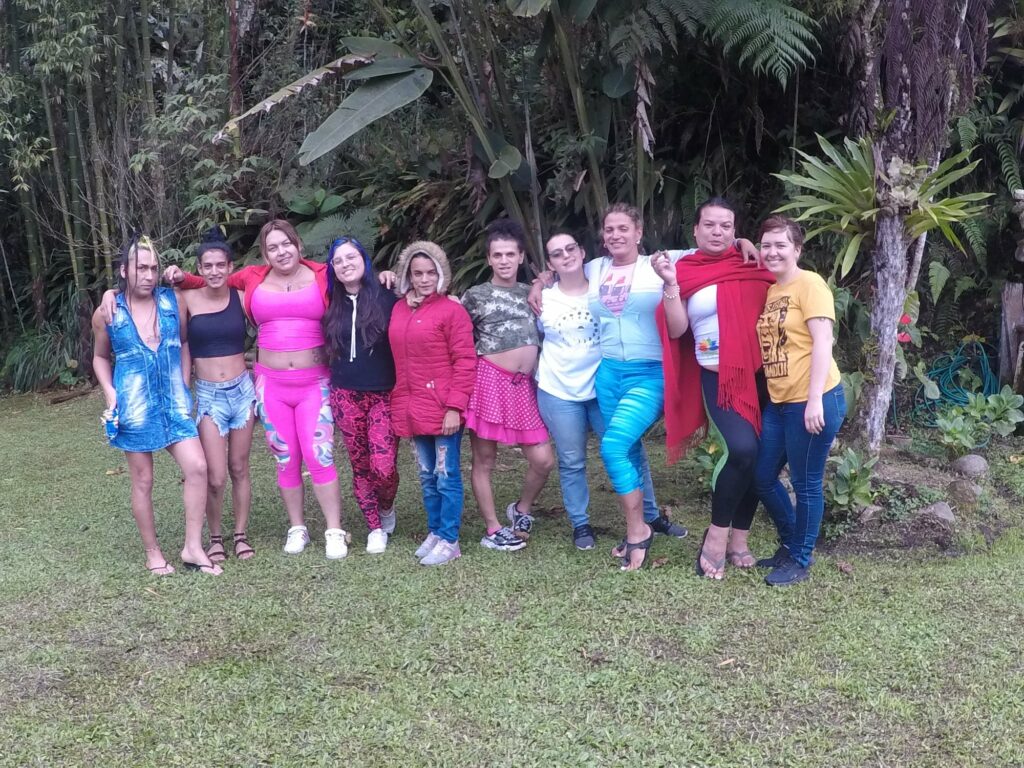 Members of Amario Abierto share their reflections on Trans Day of Remembrance 2023. Image courtesy Amario Abierto
---
¿Cómo conmemoran ustedes el día de la remembranza trans?
¿Quiénes son algunas personas trans a las que les gustaría recordar hoy?
"Nos gustaría recordar a todas las caídas y las compañeras que fueron parte de nosotras como lo son la Toco Toco, Marcela Bedolla, Johana la Abuela, La Galleta, la tía Lucy, la tía Peluca, Sabrina, Evelyn y muchas más que se han ido ya y no están con nosotras."
Las personas trans, especialmente las mujeres trans que son trabajadoras sexuales, enfrentan una vulnerabilidad extrema. Sus vidas y su activismo son un recordatorio diario de ello. ¿Cómo practican la remembranza en sus vidas cotidianas?
El duelo y la sanación son parte de nuestras luchas colectivas e historias. ¿Cómo creen que el duelo y la remembranza pueden ayudar a construir comunidad?
"El duelo siempre, siempre ha estado y estará en nuestros corazones, ya que a lo largo de nuestra vida y nuestro existir. Hemos tenido pérdidas bastante grandes ya que ha habido compañeras que no solamente fueron víctimas de verbalización sino también físicamente y han sido brutalmente asesinadas. Triste y lastimosamente, esas muertes han quedado impunes porque sus agresores nunca fueron capturados y porque nunca se hizo nada para que eso no pasara.
"La remembranza nos lleva a una lucha constante en nuestras vidas porque hay que demostrarle a nuestra comunidad, nuestro país y la humanidad que nuestra lucha no puede ser en vano. Nosotras existimos, resistimos y persistimos. También somos primas, hermanas, tías, hijas e hijos, somos seres humanos que sentimos y vivimos. Creemos que tenemos que mostrarle a la comunidad que estamos vivas y que seguiremos en nuestras luchas."
Contributors: Sandile Ndelu, Davina Rojas, Ro-Ann Mohammed