We are thrilled to have Anahita Sarabai join as the newest member of the FRIDA team. In case you missed the announcement, please click here to learn more. As the new CoED of FRIDA, Anahita joins us at a critical time in philanthropy and the global political climate. The need to recognize and resource young feminist organizing could not be more pressing as we fight increasing surveillance in the middle of what seems like a never ending pandemic. Our planet's well-being is literally in all of our hands. We are working to radically and urgently transform the funding ecosystem. We wanted to learn more from Anahita, the person. What inspires them? What are their thoughts on feminist philanthropy? What self-care advice can they share with us? Check it all out in this spirited conversation and join us in this tête-à-tête.
Tell us a story from your childhood and growing feminist consciousness.
When I was about 11 years old I remember spending an evening in my maternal grandmother's living room surrounded by 4 generations of women from her side of the family. A rare gathering filled with laughter, memories, stories and a feeling of unashamed joy and fire. I listened in awe to them, all staunch feminists in their own right, working to change the world in vastly different ways and working with a diverse group of identities. Beholding their collective love, solidarity, rage and commitment to changemaking was one of those moments in which I saw a glimpse of what I knew I would do with my life.
What makes young feminists a force to reckon with?
Our unending belief that there is something more we all deserve and that together we can get there. Our imagination for futures we have never seen before or created. Our commitment to know and understand the ways the world functions, while working on more just, intersectional, creative alternatives. Our ability to be vulnerable, drawing power and healing from everything we feel, and still showing up everyday to fight the fight. And finally, our joy and love for the world and each other.
What 3 songs do you keep coming back to?
Chaap Tilak by Abida Parveen & Rahat Fateh Ali Khan
Tú sí sabes quererme by Natalia Lafourcade
What is your favourite FRIDA memory?
Being able to attend the CREA Re-Conference through FRIDA. It came right after an especially difficult time and reminded me how much I love doing the work I do. I got to meet many of the FRIDA extended family, a diverse and loving group of individuals, and found kinship and joy there. It was a wake up call and an invitation back into the light in some ways for me. An unexpectedly eventful and fulfilling trip I'll always be very grateful for!
Do you like cooking? What's your go-to thing to make for someone?
I LOVE cooking! My go-to dish would be spinach artichoke dip or a spinach and mushroom quiche.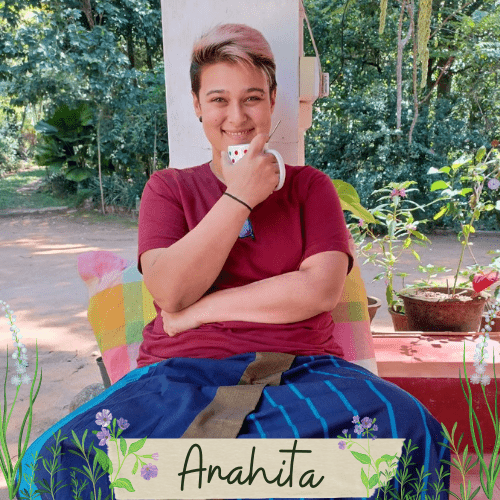 As a queer person with disabilities yourself, what do you think is significant about you occupying a position of power in philanthropy?
For starters, I have deep belief and faith in the power of representation, and I think the fact that more of us with multiple marginalized identities are coming into these positions itself is of great significance. It allows for us to diversify the voices in the room, bringing those to the table that are most affected and have historically been made to play oppression olympics, fighting over scarce resources. The world of philanthropy especially is rife with complex power structures that often invisiblise us or deem us less worthy unless we meet the exact criteria set by those in power. People like myself being in roles such as these have the opportunity to reinvent the power hierarchy, working from the inside, mirroring the intersectional realities we live and bringing with us our myriad histories and knowledges to impact decision making from within.
A self-care practice you'd like to share with us.
Being a plant parent! Spending a little time everyday with your plants, talking to them, trimming them, cleaning them up, aerating the soil, and generally just using your hands to do some nurturing and caring. Getting your hands in soil is excellent for grounding yourself.
What makes philanthropy feminist? How can we collectively make philanthropy a more feminist place to be?
A clear understanding and accounting for power hierarchies that inherently exist in philanthropic work. Recognising and tailoring the work to specific contexts and needs, while remaining flexible in the face of the ever changing socio-political landscapes people live and work within. Creating space for those needs to be informed or defined by partner groups themselves, acknowledging their expertise and knowledge.
What do you think makes FRIDA different? What drove you to apply for this role here?
FRIDA is so incredibly brave in its vision of the world, its trust in changemaking and the people who do it, its ability to be open, constantly reflecting, challenging the old ways to create new paths, and the willingness to make mistakes and learn from them. For me, these are the things that make FRIDA stand out the most.
Of the many reasons I applied for this position, perhaps the foremost was to fuel a need. Over the last year or two, I have felt the need to take the work and experience I have to a space where I can join hands with collaborators and comrades who will push me to grow and grow alongside me. A space I can respect and feel proud of, where there is a community holding each other up in the midst of every fight. In the kind of work we all do, we need to feel held and seen and challenged to be our full genuine selves. In FRIDA, I think I saw the possibility of that being a reality.
Your wish for 2022 is…
To be inspired by and inspire more young people across the world to heal and find their joy and power, so they, too, can join the revolution of empathy and rage that will redefine this world into one we can all be proud to call our own.
We are so eager to see Anahita bloom in this role, and play a key role alongside Majandra in continuing to make FRIDA a force to reckon with as a youth-led feminist fund. We are excited to learn so much from their experience, knowledge and fabulousness, and to conspire and co-create feminist beauty every day in the work we do. Onwards and upwards!