FRIDA began its search for a new Co-Executive Director (Co-ED) to co-conspire with Majandra, the present Co-ED, in July 2021. The Leadership Transition Committee (LTC), made of a few staff and board members, led a process where we received over 200+ incredible applications – many from FRIDA community members.
Each stage of the selection process was an educational experience and we learned something new with every single applicant. We are deeply grateful to have received such a diverse and highly talented pool of candidates for this important role.
Considering all of the applicants holistically, the diverse stages of the process, staff feedback, references and more, we couldn't be more thrilled to announce Anahita Sarabhai as FRIDA's newest Co-Executive Director.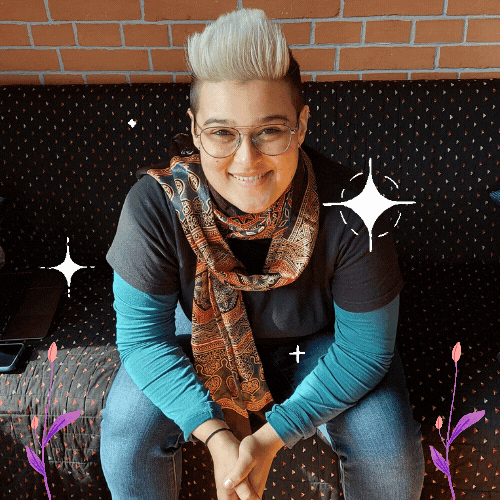 Anahita (she/they) is a queer disabled feminist activist, who has been a professional educator, facilitator and performer for over a decade. They co-founded QueerAbad, a queer-ally community building platform in their hometown, and have been part of the FRIDA community of young feminist activists working on the ground, tackling patriarchal and homophobic forces. They are currently based between Kathmandu, Nepal and Ahmedabad, India. Click here to read Anahita's full bio on our website.
We did a little tête-à-tête with Anahita, talking about all things fun, fabulous and feminist. Curious to know more? Click here to join us in this conversation.
As the new CoED of FRIDA, Anahita joins us at a critical time in philanthropy and the global political climate. We are so eager to see Anahita bloom in this role, and play a key role alongside Majandra in continuing to make FRIDA a force to reckon with as a youth-led feminist fund. As 2022 begins, we are excited to continue to conspire and co-create feminist beauty every day in the work we do.
Thank you for being a core part of that magic and feminist fire!
With love and hope,
All of us at FRIDA