"They tried to bury us, they didn't know we were seeds"

Mexican proverb
*Versão em português abaixo*
On October 2nd 2016, Marielle Franco – woman, black, sociologist, feminist, human rights defender, bisexual, mother, born and raised in the Maré favela[1]– was elected as the fifth most voted councilor in Rio de Janeiro, Brazil's third largest electoral council. She's not the first person elected whose identity challenges Brazil's traditional political profile, mainly represented by straight white cis-men. Names such as Benedita da Silva, Leci Brandão and Antonieta de Barros opened a path for her. But Marielle's successful campaign stems from the June 2013 gatherings and the feminist spring in Brazil, which were mainly led by young activists and were important historical turning points in the country.
These mobilizations, both on the street and on social media, had multiple and complex consequences for Brazilian politics, including Dilma Rousseff's (Brazil's first woman president) destitution in August 2016; the rise of right-wing extremism – which reached its peak with Jair Bolsonaro's election in 2018 – and an increase in political candidates with feminist concerns, particularly at the legislative level.
The protests against transportation fare increase started to grow and included substantial demands regarding representation, policies addressing inequality, public service improvement and a more inclusive governance centered in it's people. Eventually, these protests turned into a conflict between conservative and neoliberal parties. Amidst the 2016 political upheaval, more councilors with social agendas were elected across Brazil. Still, the number of votes won by Marielle – 46 thousand – in a city as big as Rio de Janeiro was a clear evidence that there was space for building alternatives to historical inequalities affecting the country. For us activists, this meant creating tangible alternatives to traditional politics, as well as an important victory in times of increasing right-wing extremism. The fact that a black LGBTQIA+ woman was holding an institutional position of power made our eyes twinkle and showed us other futures were possible.
Young people, black women and trans people collaborated in what Marielle named as "mandatA coletiva"[2], an expression for her mandate that intends to underline a feminist perspective as the backbone of her political action. In little more than one year as councilor, her office produced more than 16 legislative projects mostly aimed at guaranteeing the rights of marginalized communities (women, black, LGBTQIA+ and favela inhabitants). Marielle also denounced police violence in Rio. Before her election, she worked with grassroots organizations in Maré favela, and, for ten years, in the Human Rights Commission of Rio de Janeiro's Legislature, where she directly attended victims of State abuse. Despite hardship, she never gave up and fought for herself and others.
On the night of March 14th 2018, the world was outraged by the nine gunshots fired at the car she was traveling in – four of which hit her head – resulting in Marielle's and Anderson Gomes', her driver, death. They killed a councilor while in full exercise of her mandate in one of the biggest cities of the country who was also Luyara's mother, Mônica's fiancé, Anielle's sister and Marinete and Antônio's daughter. They interrupted the rising trajectory of a role-model activist with a clear message: "don't dare challenge the power hierarchy".
Three months before Marielle's murder, an Amnesty International report revealed that Brazil was the country with the highest rate of human right defenders murders in the Americas. In general, women defenders experience particular forms of violence, since their activism is generally perceived as a threat to the traditional concepts of family and gender. Marielle's death exposes how vulnerable are those who embody a defiance of white hegemony, heteronormativity, patriarchy, colonialism and capitalism, as well as those who organize and take action to transform these systems in Brazil.
Yet, the grief for her death was so great that it turned into political and social struggle. The pain and unrest of a sudden and violent murder deeply moved activists throughout the whole country. It ignited a resistance, a pursuit for answers and accountability for the crime, along with steps forward in the political agenda she represented and defended. Thus, Marielle is a seed that currently offers its fruit. Her name symbolizes respect for feminine, black, marginalized and LGBTQIA+ voices struggling for equal rights.
Our collective rage gave leverage to a growing and record-breaking rate of elected candidates all across the country that represent historically excluded identities. We took the streets demanding justice for Marielle and Anderson. Her name and her cause are now known worldwide. Last year, Monica Benicio, Marielle Franco's partner, was elected councilor in Rio de Janeiro while she continues to demand solutions for the committed crime. Likewise, Marielle's parents, sister and daughter founded the Marielle Franco Institute to cultivate her legacy, defend her memory, demand justice and support black people and favela inhabitants who, just like Marielle, want to make changes in Brazil's political structures. In the 2020 municipal elections, the Institute launched the Marielle Agenda for candidates seeking to engage with antirracist and feminist causes across the country. Eighty one people were elected under this commitment. If one wanted to wipe us out, they got the opposite.
On the third anniversary of her murder, perpetrated six days after International Women's Day, we join the March mobilizations, so important in the feminist and women horizon, to reflect upon her legacy and her agenda. Our challenges are huge. Yet, from our different contexts, we remain steady in our respective fields of action. We are indigenous women fighting for our bodies and territories attacked by racism, sexism and capitalism that exploit and extract the abundance of our lands, forests and waters. In the midst of the COVID-19 pandemic, invaders bring the virus and deforest our communities.
We are antirracist feminists fighting against the perverse display of structural racism in Brazil including the murder of young black people, wage inequalities, gender based violence and feminicide, all of which disproportionally affect black women. The sanitary crisis has already killed more than 278,000 people in the country and studies are showing that black and brown people present higher contagion and hospitalization rates.
As anti-punitive activists[3] in Rio de Janeiro and Belo Horizonte cities, we defend cis and trans women's rights related to prison and socio-educational systems, especially young, black and migrant women, as well as pregnant, postpartum and breastfeeding bodies.
We are journalists committed to human rights, devoted to vocalizing urgent calls against oppressive systems. In a context in which life is increasingly becoming virtual – a process catalyzed by the pandemic – women, especially black women and non-binary people, are more exposed to violence and all sorts of cyber-attacks. We want to offer learning and training spaces to young indigenous and black women, so they can access the programming field as a strategy to create more inclusive and safer technologies.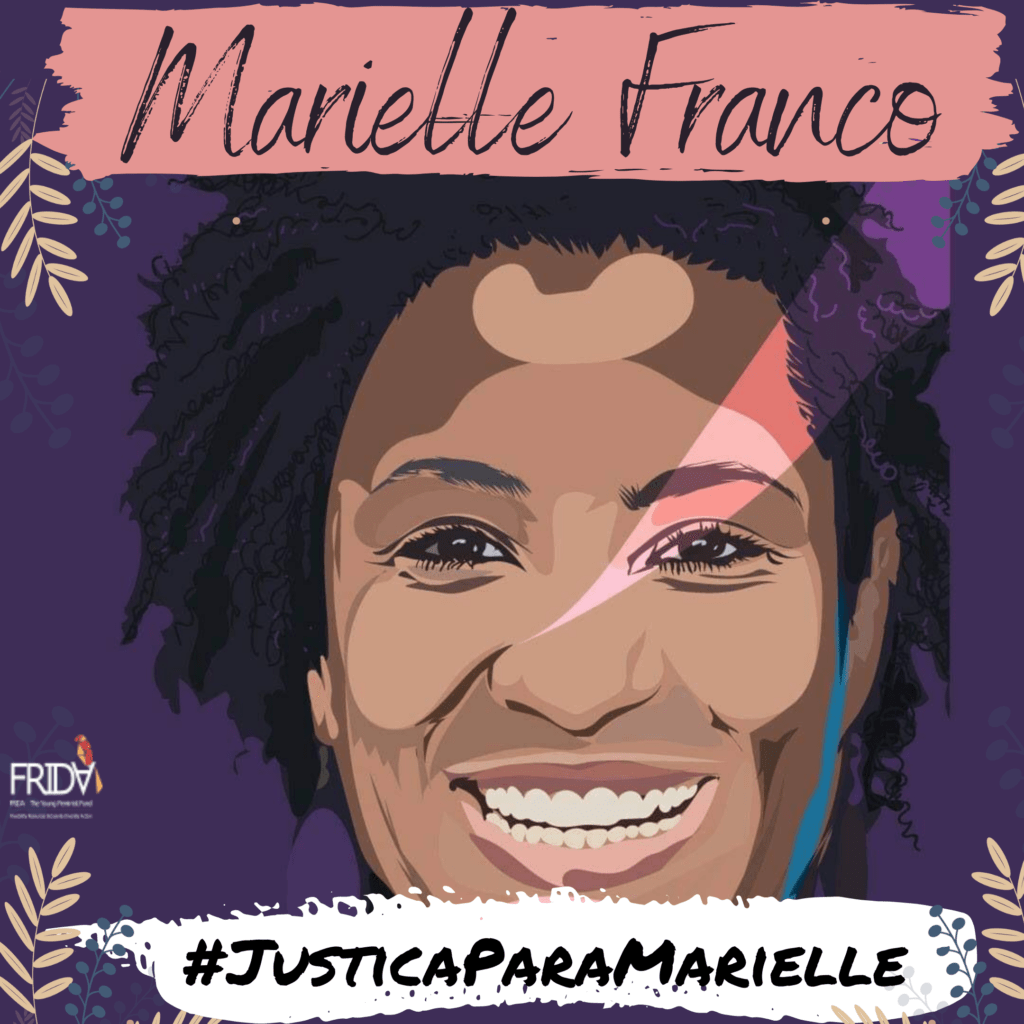 We are many and we are diverse, but we are connected through human rights defense, fighting for the bodies that are most affected by systems of oppression, fighting to overcome inequalities. Although we emerge from different latitudes and perspectives, our activisms intersect with Marielle's trajectory and legacy, resonating with many women; generating life, memory and the persistence of our struggles against injustice and attempts to wipe us out, both physically and symbolically.
In October 2018, the same year Marielle was murdered, Jair Bolsonaro was elected as Brazil's president. He is a former army captain who spent 30 years as a federal deputy without ever managing to pass a legislative project, only appearing in the news and attracting attention with his pro-military dictatorship stance and his attacks against women, indigenous quilombolas, black and LGBTQIA+ communities. The support he received in Brazil reflects a growing conservatism and a normalization of State violence. His election not only reveals a cause, but also a symptom of our problems.
During his campaign, Bolsonaro promised to wipe out all forms of activism. After that, human rights defenders have started to face more and more challenges, including a reduction and rollback in the national program designed to protect them. In 2019, 24 land and environment defenders were murdered, 10 of which were indigenous people. This places the country as the fourth most dangerous places in the world for human rights activists.
The silence of authorities, who, until today, haven't answered "Who ordered Marielle's and Anderson's killings, and why?" – questions articulated in many languages and many parts of the world – indicates how vulnerable we are and how the attacks against our bodies are still tolerated in Brazil.
Between 2016 and 2020 – before municipal elections – political violence increased in 37%, with 76% of the cases being directed at women. Even though, after Marielle's death, there are more black, trans, indigenous, LGBTQIA+ candidates elected, the backlash has been harsh. Marielle's friend Talíria Petrone, a member of the same political party and a black woman federal deputy, was forced to change city and is currently living under protection, after having received death threats. After the 2020 elections, various incidents related to racist and transphobic attacks were registered against elected candidates. In the last week of January 2021, three black LGBTQIA+ councilors –Erika Hilton, Carolina Iara and Samara Sosthenes– were attacked and threatened in São Paulo, including a gunshot fired at the house of Carolina Iara, who also identifies as intersex. They keep trying to intimidate us, but we continue to move forward.
In a context of increasing conservatism, detriment in fundamental rights and attempts of undermining our lives, it's important to support everyday resistance led by black, indigenous, marginalized women who occupy spheres historically denied to them. To help dismantle colonial systems implies ensuring financial and non-financial resources for marginalized communities (girls, youth, BIPOC, indigenous, quilombola, LGBTQIA+, antirracist) and sustain Marielle's – and many more women's – legacies. It also means putting a halt to structures that try to undermine our existence in all its diversity and transforming hate towards human rights defenders into affection, dialogue and community building.
On the week of another 14th of March, we reaffirm our call for international solidarity in the middle of a critical moment for Brazil. We also join Marielle's family, and her infinite seeds scattered around the world – especially in the peripheries of Brazil – demanding an answer from Brazilian authorities: "Who ordered Marielle's and Anderson's killings, and why?". March, a month of women's fights and struggles, now also becomes a month to demand justice for Marielle. She allowed us to look up at the sky and imagine futures made by and for ourselves.
By ColetivA Teia, Minas Programam, Elas Existem, Rede Pelas Mulheres Indígenas, groups in Brazil supported by FRIDA | The Young Feminist Fund; Amanda*, advisor of FRIDA | The Young Feminist Fund in Brazil; and Letícia Vieira, Veronica Veloso and Juliana Câmara, FRIDA staff in Brazil.
*We use an alias to protect her privacy
[1] A favela is a type of low-income informal settlement in Brazil that has experienced historical governmental neglect (https://en.wikipedia.org/wiki/Favela).
[2] Literally meaning "collective mandate", the uppercase A emphasizes a feminization of the term 'mandato'
[3] In Brazil, anti-punitive activism questions the State's judicial and penitentiary systems and its perpetuation of structural inequalities. It resembles what is known as the prison abolition movement in the United States.
Versão em português
Três anos depois e além: Marielle Franco é semente que floresce na nossa luta por justiça social
Eles tentaram nos entrrar, mal sabiam que éramos sementes

Provérbio mexicano
Foi no domingo 02 de outubro de 2016 que Marielle Franco, mulher, negra, socióloga, feminista, bissexual, mãe, nascida e criada na favela da Maré, e defensora dos direitos humanos, se elegeu como a quinta vereadora mais votada do Rio de Janeiro, o terceiro maior colégio eleitoral do Brasil, na sua primeira candidatura. Ela não foi a primeira pessoa cuja identidade desafiava o perfil tradicional da política brasileira – em geral, ocupada por homens brancos, ricos, heterossexuais e cisgêneros – a ser eleita no país. Nomes como Benedita da Silva, Leci Brandão e Antonieta de Barros lhe abriram caminhos. Mas o sucesso da campanha de Marielle aconteceu na esteira das Jornadas de Junho de 2013 e da primavera feminista, lideradas majoritariamente por ativistas jovens, e assumiu um sentido muito importante na história recente do Brasil.
Os desdobramentos da movimentação que tomou as ruas – e as redes sociais – no país a partir de 2013 para a política institucional são diversos e ainda um desafio para quem os estuda. Mas, sem dúvida, eles incluem a destituição da primeira mulher presidenta do Brasil, Dilma Rousseff, em Agosto de 2016, a união de forças em torno da extrema direita, que teve seu auge com a eleição de Jair Bolsonaro em 2018, e o impulsionamento de candidaturas, principalmente às casas legislativas, com pautas feministas.
Os protestos, que depois passaram a ser disputados por forças conservadoras e neoliberais, se iniciaram como oposição ao aumento do preço do transporte público e cresceram para abraçar uma demanda importante por representatividade, combate à desigualdade, melhoria dos serviços públicos e novas formas de governar, mais inclusivas e populares. No pleito de 2016, outros vereadores e vereadoras foram eleitos Brasil afora com agendas elaboradas sob esta perspectiva. Mas o volume de votos que Marielle recebeu numa cidade do tamanho do Rio de Janeiro – 46 mil – confirmou a existência de um espaço importante para a construção de alternativas populares às desigualdades históricas que marcam o país. Para nós, ativistas, era a produção de uma alternativa concreta à política tradicional e uma vitória importante diante da forte onda conservadora que já se formava no horizonte próximo. A visibilidade de um corpo feminino negro LGBTI ocupando um espaço de poder institucional fez brilhar um pouco mais os nossos olhos e mostrou outro futuro possível.
Em sua mandatA coletiva, como era chamada para destacar a perspectiva feminista que organizava sua atuação política, trabalhavam jovens, mulheres negras e pessoas trans. Em pouco mais de um ano como parlamentar, seu gabinete apresentou ao todo 16 projetos, elaborados principalmente para garantir direitos para mulheres, população negra, LGBTIs e moradoras e moradores de favela. Marielle também denunciava a violência policial nas favelas cariocas e, antes de decidir se candidatar, trabalhou com organizações de base na favela da Maré e, por dez anos, na Comissão de Direitos Humanos da Assembleia Legislativa do Rio de Janeiro, onde atuou diretamente com vítimas de violações cometidas pelo Estado. Apesar das adversidades, ela não se deixou abater e lutou por si e por outras.
Os nove tiros que atingiram o carro onde ela estava no Centro do Rio de Janeiro na noite do dia 14 de Março de 2018 – quatro deles na cabeça – e que vitimaram também o motorista Anderson Gomes chocaram o mundo. Eles mataram uma vereadora em pleno exercício de mandato numa das maiores cidades do país, mas também a mãe de Luyara, a noiva de Mônica, a irmã de Anielle, e a filha de Dona Marinete e do Sr. Antônio. Interromperam a trajetória ascendente de uma ativista que se tornou referência e portaram uma mensagem clara: "não ousem disputar os espaços de poder".
Três meses antes do assassinato de Marielle Franco, relatório da Anistia Internacional mostrou que o Brasil era o país das Américas onde mais se matavam defensoras e defensores de direitos humanos. Mulheres defensoras geralmente são alvos de formas particulares de violência, uma vez que seus ativismos costumam ser percebidos como desafiantes das noções tradicionais de família e gênero. A morte de Marielle escancara a vulnerabilidade no Brasil de quem encarna em seu próprio corpo o questionamento à hegemonia da branquitude, da heteronormatividade, do patriarcado, do colonialismo e do capitalismo e, além disso, mobiliza-se e age contra esses sistemas.
Mas o luto por sua morte transbordou e virou luta. A dor e a revolta diante do aniquilamento abrupto e violento percorreram as veias de ativistas de todo o país, inflamando a resistência, a busca por respostas para o crime, por responsabilização para os envolvidos e pelo avanço e o aprofundamento da agenda política que ela representava e defendia. Marielle é semente frutífera. Seu nome significa o respeito à voz feminina negra periférica e LGBTI.
Nossa fúria coletiva impulsionou um número crescente e recorde de candidaturas representativas de identidades historicamente excluídas eleitas nos pleitos seguintes em todo o Brasil. Tomamos as ruas exigindo justiça por Marielle e Anderson, seu nome e suas pautas se tornaram conhecidas em todo o mundo. No ano passado, sua viúva se elegeu também vereadora do Rio de Janeiro, demandando soluções para o crime, e seus pais, sua irmã e sua filha fundaram o Instituto Marielle Franco, para cultivar seu legado, defender sua memória, cobrar justiça e apoiar pessoas negras e faveladas que, como Marielle, desejam mover as estruturas políticas do país. Nas eleições municipais de 2020, a organização lançou a Agenda Marielle, para candidatos e candidatas que quisessem se comprometer com pautas antirracistas e feministas em todo o país. Oitenta e uma delas foram eleitas. Se desejavam apagar Marielle, o contrário aconteceu.
Três anos depois de seu assassinato, cometido seis dias após o Dia Internacional das Mulheres, nos somamos às mobilizações deste mês de março tão importante para a pauta feminista e de mulheres para refletir sobre seu legado e de sua agenda para nós. Nossos desafios são enormes. Mas, desde nossos contextos diversos, seguimos firmes em nossos campos de atuação. Somos mulheres indígenas em defesa de nossos territórios e de nossos corpos, alvos do racismo, do machismo e do capitalismo que quer explorar e extrair riquezas de nossas terras, matas e águas. Em meio à pandemia de COVID-19, invasores levam o vírus e o desmatamento para nossas comunidades.
Somos feministas antirracistas lutando contra as manifestações perversas do racismo estrutural no Brasil, dentre elas, o homicídio de jovens negros, a desigualdade salarial e a violência de gênero e o feminicídio, cujas principais vítimas são mulheres negras. A crise sanitária em curso já matou mais de 278 mil pessoas no país e estudos mostram que pessoas pretas e pardas têm mais chances de serem infectadas e hospitalizadas. Como ativistas anti-punitivistas no Rio de Janeiro e em Belo Horizonte, atuamos pelos direitos humanos das mulheres cis e trans que têm relação com o sistema prisional e socioeducativo, principalmente adolescentes, negras, grávidas, puérperas, lactantes e estrangeiras.
Somos jornalistas comprometidas com os direitos humanos, dedicadas a vocalizar pautas urgentes contra os sistemas de opressão. Num contexto em que a vida se torna cada vez mais mediada pelo virtual, processo intensificado pela pandemia, mulheres, especialmente negras, e pessoas não binárias estão expostas a violências e todos os tipos de ataque. Estamos comprometidas em oferecer formação para que jovens negras e indígenas entrem no mundo da programação, como estratégia para incentivar a produção de tecnologias inclusivas e seguras para todas nós.
Somos muitas e diversas, mas estamos conectadas pela defesa dos direitos humanos dos corpos mais afetados pelos sistemas de opressão e pela busca por superá-los. Partindo de lugares diferentes, nossos ativismos invariavelmente se cruzam com a trajetória de Marielle e seu legado, que ecoa junto a muitas mulheres, pulsando vida, memória e continuação da luta contra as injustiças e tentativas de aniquilamento físico e simbólico.
Em outubro do mesmo 2018 em que Marielle foi assassinada, Jair Bolsonaro, um ex-capitão do Exército que passou 30 anos como deputado federal sem jamais ter um projeto de lei aprovado e que até então só aparecia no noticiário ao chamar atenção com posicionamentos em defesa da ditadura militar e ataques a mulheres, indígenas, quilombolas, pessoas negras e LGBTQIA+, foi eleito presidente do Brasil. A adesão da sociedade brasileira à sua candidatura indica uma escalada do conservadorismo e da normalização da violência de Estado no país. Sua eleição é também sintoma, não apenas causa dos nossos problemas.
Durante a campanha, Bolsonaro prometeu acabar com todas as formas de ativismo. De lá para cá, defensores e defensoras de direitos humanos enfrentam cada vez mais desafios e o programa nacional desenhado para protegê-los está encolhido e desmantelado. Em 2019, foram mortos 24 defensores do meio ambiente no Brasil, dentre eles 10 indígenas, colocando o país em quarto lugar entre os mais violentos do mundo para ativistas de direitos humanos. O silêncio das autoridades, que seguem até hoje sem apresentar respostas à pergunta "Quem mandou matar Marielle e Anderson, e por quê?", feita em todos os cantos do mundo, nas mais diversas línguas, é um indicativo de que estamos vulneráveis e de que ataques contra nossos corpos seguem sendo tolerados no Brasil.
Entre 2016 e 2020 – antes das eleições municipais – a violência política aumentou em 37%, sendo as mulheres vítimas em 76% dos casos. Se por um lado, após a morte de Marielle, candidaturas vitoriosas de mulheres negras, trans, indígenas e LGBTQIs avançaram, por outro, o contra-ataque foi forte. Companheira de partido e amiga de Marielle, Talíria Petrone, deputada federal e mulher negra, foi forçada a mudar de cidade ano passado e está sob proteção, após receber ameaças de morte. Depois das eleições de 2020, diversos casos de ataques racistas e transfóbicos foram registrados contra pessoas eleitas. Na última semana de janeiro de 2021, três vereadoras trans e negras – Erika Hilton, Carolina Iara e Samara Sosthenes – foram alvos de ataques e ameaças em São Paulo, incluindo tiros disparados em frente à casa de uma delas – Carolina, que também é intersexo. Eles seguem tentando nos intimidar, mas nós continuaremos avançando.
Diante desse cenário de crescente conservadorismo, supressão de direitos e tentativa de minar nossas existências, é importante apoiar as revoluções cotidianas produzidas e impulsionadas por mulheres negras, indígenas e periféricas em todos os ambientes que historicamente lhes foram negados. Apoiar tais rupturas no sistema colonial significa garantir recursos financeiros e não financeiros a meninas, jovens e mulheres negras, indígenas, quilombolas, LGBTQI e antirracistas nos seus territórios e dar continuidade ao legado de Marielle e tantas outras. É permitir que a estrutura que tenta coibir nossas existências em toda a sua diversidade não nos amedronte e que transformemos o ódio que é destilado a quem defende os direitos humanos em ações concretas baseadas no afeto, no diálogo e na construção coletiva.
Um dia após mais um 14 de Março, reforçamos o chamado de solidariedade internacional com o momento crítico que atravessa o Brasil. Às autoridades brasileiras, nos somamos à família de Marielle e às suas infinitas sementes espalhadas por todo o mundo, mas principalmente pelas periferias do país, para perguntar: "Quem mandou matar Marielle e Anderson, e por quê?". Março, mês de luta pelas mulheres, se tornou também mês de luta por justiça para Marielle. Ela nos permitiu olhar para o céu e sonhar com futuros possíveis para nós, por nós, e a partir de nós.
Por ColetivA Teia, Minas Programam, Elas Existem, Rede Pelas Mulheres Indígenas, grupos apoiados por FRIDA | The Young Feminist Fund no Brasil; Amanda*, assessora de FRIDA no Brasil; e Letícia Vieira, Veronica Veloso e Juliana Câmara, equipe de FRIDA no Brasil.
*Trocamos seu nome por respeito a sua privacidade