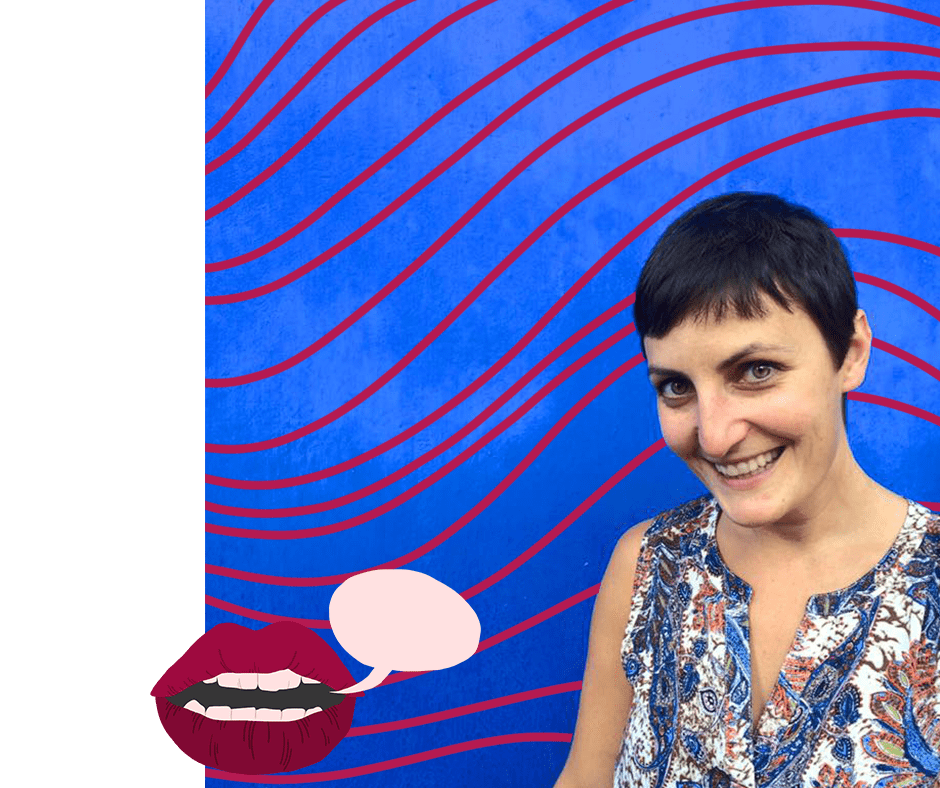 Angelika Arutyunova's activism grew out of the turbulent soil of Soviet Union collapse. Director of the Feminist Movement Building programme at AWID and one of FRIDA's founding advisors, Angelika speaks to us about how money is political, and how acknowledging this paves the way for the stories of young feminist organisers to be directed and written by those who live them.
In addition to being a founding advisor, Angelika has played many formal roles at FRIDA including Interim Coordinator. She is an outgoing Advisor to the Board, and we thank her for all her work and energy.
"I was a teenager when the Soviet Union collapsed."
It was transformative for Angelika to see how an ideology could fall that was so ingrained and almost not questioned…that it can be completely wiped out and a new one comes in with as much arrogance around how good of a system it is. "One thing I will always remember that has determined how I approach the world was: I came to school after the collapse of the Union, and our history books had changed. The people who were previously defined as anti-Soviet terrorists were now freedom fighters for Uzbekistan's independence. I pointed that discrepancy out to my history teacher, who gave me the most important lesson at that time. 'History is always written by the winners,' he'd said. Winners define what version of the narrative they are going to put forward. So that made me question narratives from that point on. Whatever narrative I was given, especially of a very dominant culture, I was always wondering about the other side of the story. Coming to FRIDA, it was very helpful to see whose narratives: whose stories, and whose ideas are we uplifting? Who are we engaging in the conversation and who are the narrators of what's happening?"
The second thing that impacted Angelika's perspective on organising and activism is her involvement in debating during her university years. "We were creating different debating clubs all over my town. It was just a fun way for youth to come together. We were approached by a funder at some point of our debating organising asking us if we need some funding to be doing this work. It became a very fascinating debate in the community, where some people were saying, 'Yeah, absolutely, let's get the money,' and where some others of us were saying, 'Wait a minute, but we have been doing this without the money, what's the money for?' So the conversation about money emerged early on for me. This was in a society where there was so much international presence after the collapse of the Soviet Union, NGO-isation happened overnight…the myth of civil society started growing in the 90's in this post-Soviet space, but activism and organising has always been there, and it was not financed by large foundations."
It was the questioning of narrative and Angelika's experiences, of money being political, from early on that informed the lens through which Angelika approached the formation of FRIDA. "Jessica Horn was doing the field scan for us. She had meetings with different funders, saying, 'We are seeing there is not a lot of resources for young feminist organising. What do you think the response should be? Should there be a separate standing fund that supports young feminist organising, or will other funders pick it up?' It was a fascinating moment, because it was right after the global financial crisis. A lot of funds were struggling very much. We're talking 2009 – it's an important moment to remember when we actually made the crazy decision to start FRIDA. Also, that fascination and infatuation with women's funds was wearing off. There were a lot of new actors coming to the table at the time, who were talking about women and girls in a much easier, accessible language, instrumentalising ideas like, 'support a girl to get education, and then she will save the world.' That kind of rhetoric started happening. So for us to come in and say, 'no, we're talking about young feminist organising,' people were saying, 'You're crazy, there's no way.'"
But it wasn't only skepticism with which the founders of FRIDA were met. "We ended up with an excited group of people in the room in Beirut, because a lot of people were saying, 'Absolutely! We need to be doing this…' There were people like Ana Criquillion, who I think we need to give so much credit for for FRIDA's creation. She was absolutely convinced from day one, 'This is it. This is how we must go.' Having someone like her with her reputation in the room was giving way to thoughts such as, 'Well, if Ana Criquillion is involved in this, then this must be good.' So I want to acknowledge that. What Ana and Lydia and many people were good at articulating at the time is the power of money in the hands of the people who are doing the organising themselves. It's not just giving the money to young feminists to do the organising, but seeing how they will organise around the resources and distribute them. From the very conception of the idea, it was decided that in one way or another, FRIDA will find a way for participatory grant-making, from the very start. It was not even a question."
During the conversation, Angelika was asked to bring an artefact–a picture, an object, a smell, anything that connects to the conversation around unpacking FRIDA's founding.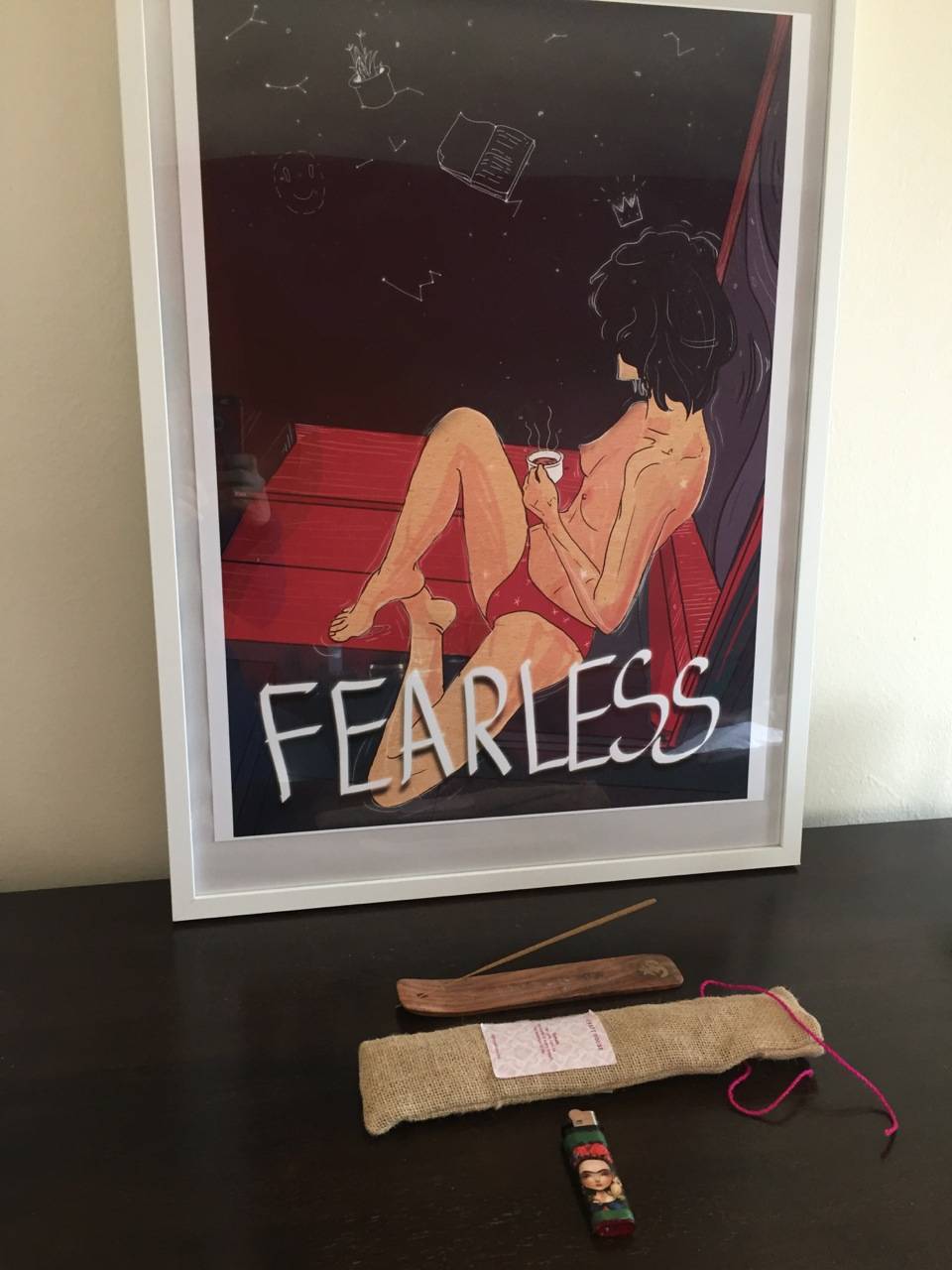 For Angelika, this photo captures the beginning and the continuation of FRIDA. The incense you see on the photo was given to her by Amina Doherty during their exchange in Mexico advisors meeting in 2013. It is Soham and description on the bag says: The aroma will last for hours and help synergies the senses with inner realm. Soham moves us into a mystical space that is both physical and spiritual. "This is who FRIDA is and how Amina and the rest of the group have led FRIDA from its inception – connecting cerebral and spiritual, taking leap of faith into the unknown territory of creating something new," she says. A lighter next to incense is from FRIDA Kahlo's House in Mexico City where they celebrated FRIDA; it was a special moment indeed celebrating the reality that now FRIDA became. The photo on the background is who FRIDA is now and the impact of FRIDA's even being here. "I have this poster of Fearless Collective in my room and it reminds me every day of the fearless young feminist activism that is happening around the world. I am grateful for current FRIDA leadership for connecting me and AWID with The Fearless Collective who led 'Visioning Feminist Futures' plenary at AWID's 2016 Forum. In 2008 AWID Forum young feminists were demanding space at the table. In 2016 AWID Forum young feminists were leading the vision of Feminist Future! That is beautiful and a testimony to the shifts that have taken place."
While conversation and strategy-building was intense over the course of the meeting in Beirut, it was the "creative, passionate" character of many founders that drove the process forward. "That period of time, working with [the founders] counts as one of my favourite times, professionally."
"In the early days, I was lucky to work very closely with Amina, the first coordinator, who is an absolute force of nature. She is such a creative, incredible thinker and a beautiful soul. My favourite moments could be anything from watching Amina create the most complex but pretty excel sheets to do grant-making things, or sitting in the meetings and drawing our conversations. She would bring her collection of crayons and pencils and she'd just draw the entire time. She'd come out of the meeting with the most beautiful map of FRIDA, with words and flowers and all of this artistic representation of things. It's been an absolute joy to watch Amina in action."
"I would also say the same about Ana. The three of us, Ana, Amina and I, have had a lot of interactions together, and we bring very different skills and styles into the Fund. It's been a fascinating process to watch that. I would love to hear what they think about it, actually!"
Angelika speaks of the eventual phasing out of her work and responsibilities at FRIDA as if it were yesterday. "It was a very sweet moment when I closed my formal relationship with FRIDA. It's not my place anymore, and it feels very nice. It feels nice to feel that I don't need to be giving advice to FRIDA. FRIDA is in the hands of the younger generation that is holding it now, and that generation will pass it on. I'm here if I'm needed for whatever conversations, but not for any decision-making. Whatever solidarity you need, I stand with you, we are here. But I'm moving onto something new now, new work to which I can contribute from where I am at this point of my life."