In 2016, we surveyed over 1500 young feminist organizers and found that over 91% of respondents said lack of financial resources was the main challenge they faced. At FRIDA, the core of our work is to ensure that young feminists are supported, encouraged and accompanied in their struggle for justice.
The beginning of this journey can be hard. To be able to sustain oneself as a collective can be very challenging in a world where resources are limited. Today, we want to share the story of Gerehu Working Women's Sewing Group (GWWSG), a young feminist collective in the Pacific island of Papua New Guinea. Way back in 2014, GWWSG's founder Anne Marie was running out of ideas: "I wrote to politicians, attended ground breaking ceremonies just so that I could give them a letter and hopefully pitch for my group. I tried all options that were free and still had no luck. I was about to give up, when I was suggested by a sister to try asking for funding online through donor organziations."
Papua New Guinea is a country where 80% of its population remains without a bank account, which presents many challenges in being able to save and manage money. It is a country that illustrates global economic inequality: with growing globalization, urbanization and corporations ruling the economy, extreme inequality is an urgent challenge that confronts women and oppressed people, in particular.
GWWSG's focuses on financial literacy for grassroots women. The group is committed to improve basic skills awareness throughout the most notorious and poor areas of urban Port Moresby. They see it as a way to counter poor working conditions and exploited informal workforce, usually composed of women.
In 2015, GWWSG applied to FRIDA during its grant cycle, got shortlisted as an eligible group to receive funding and received votes from their peers to receive a FRIDA grant. This changed the story around for GWWSG.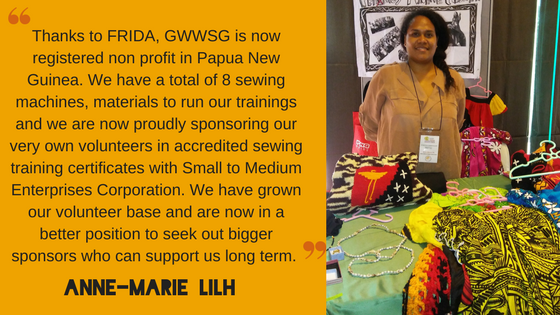 While GWWSG's story might read as a typical example of economic empowerment, what makes them stand apart is their underlying analysis of changing gender and class systems. Their work with financial illiterate women in their community is key in taking the first step towards achieving economic justice for all.
Young feminist organizers are at the forefront of struggles to challenge global economic and political systems that are built on on labour exploitation and multiple forms of discrimination. Today, we share Anne Marie and GWWSG's story so you know that a new world is not only possible – it's on the way!
We ask you to please consider giving to FRIDA today. Your money strengthens young feminist activism, and gives hope and validation to the people leading the struggle.