Hello feministas, 
We are Dani and Euge, young feminist activists from Argentina! We recently had the opportunity to meet, share and learn from each other. And today, on May 17, as the world observes International Day against Homophobia, Transphobia and Biphobia (IDAHOT), we want to tell the story of No Tan Distintas.
The name 'No Tan Distintas' loosely translates as "Not so different". It is a young feminist group that works with cis and trans* women living on the streets, helping them exercise their human rights, and a grantee partner of FRIDA since 2016.
With support from FRIDA, No Tan Distintas began the management of their very own El Centro de Integración Frida (Frida Integration Center). It offers housing to cis and trans* women on the streets, living with or without dependent children. It covers basic needs (shelter and food) and works with residents aiming to strengthen their health, promote their access to rights, their political participation within the community and offer new knowledge.
The integration center is also an attempt to understand the root causes of why girls, cis and trans* women end up living on the streets, identifying homophobia, transphobia and biphobia as factors triggering it, while collectively fighting against these oppressive forces.
No Tan Distintas sees Casa Frida as the first of many integration centers in Argentina having a feminist approach to people living on the streets. Here is a poem they wrote that captures the essence of it all: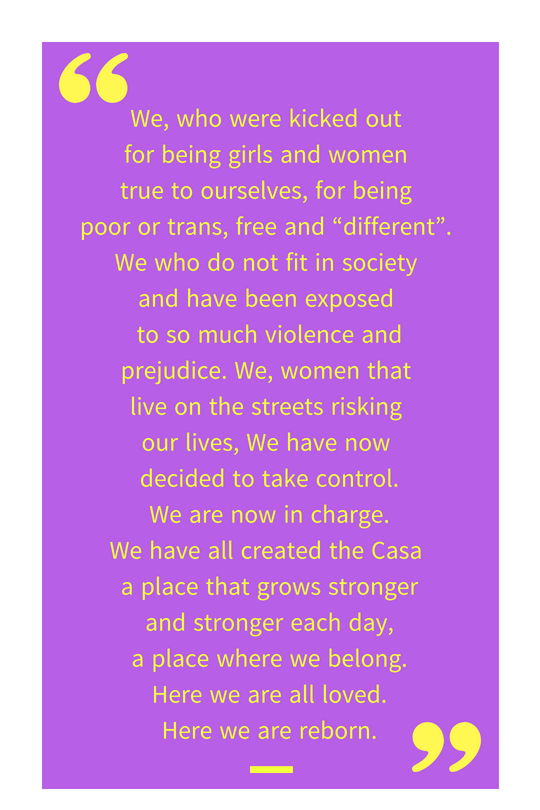 The work No Tan Distintas is doing is both challenging and valuable. It is not just a fight against poor living conditions, but also one against stigma, social discrimination and ostracisation.
As the world observes IDAHOT, take a moment to recognize groups doing some of the most challenging yet critical work in the most fierce and daring ways. Let us learn from their ways of organizing, and celebrate their beauty!
In solidarity,
Dani on behalf of No Tan Distintas // Euge on behalf of everyone at FRIDA