Did you know in 2015, FRIDA gave out 71 grants to radical, trail blazing young feminist groups? That we grew from an organisation of 3 to 7 staff members? And that was just the start…2015 was FRIDA's Year of Blooming!
Today we present the 2015 FRIDA Annual report. A colorful riot of stories, quotes and images from an incredible year. In it, we share our reflections about what the FRIDA community achieved in the last year and the impact of our grantees. Each beautiful layer tells the story of a new strategy, approach or technique that we used to blossom into a stronger, more independent and resilient organization.
When we pulled it all together, we couldn't believe it! All the groups and organisations we've collaborated with, the places we've been and the changes we've created together. We want to shout about it from the rooftops!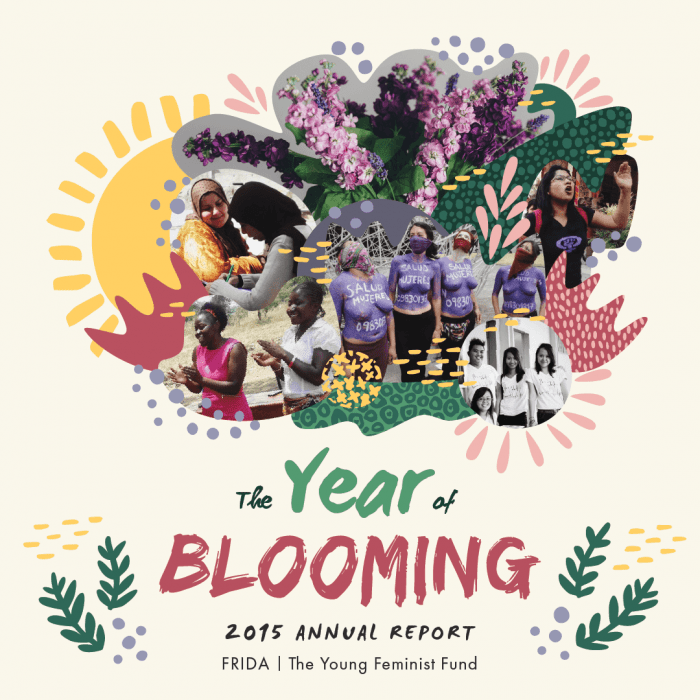 FRIDA's year of blooming is just the beginning. As an organization, we have spent 2015 strengthening our roots, fostering our community, and becoming more sustainable. We now stand on firmer ground from which to flower and grow. We look forward to taking another journey around the sun with you! – The FRIDA Team

** With thanks to the fab designers at Sloop Creative**
Will you join us in sharing this incredible year with the world? Click here to share it on Twitter or to post on Facebook.
Much love,
From (a very happy!) Team FRIDA