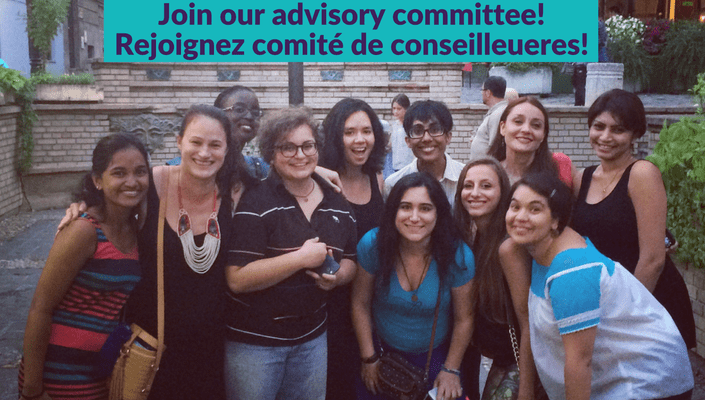 Background
Since its founding, FRIDA has relied on a Global Committee of Advisors made up of mostly young feminist activists from all over the world. These Advisors play a key role in the following areas:
Facilitating FRIDA's annual participatory grantmaking process by screening applications, reviewing final results, and supporting due diligence.

Supporting grantee partners' capacity development and communication with FRIDA and conducting outreach.

Informing strategy and programmatic decisions in various areas of FRIDA's work through thematic working groups such as Communications, Resource Mobilization, Capacity Development, and Grantmaking.

Informing FRIDA's strategic direction every 5 years.
Must haves for eligible candidates:
Aged under 35 years at the time of application*

Three or more years demonstrated commitment to advancing women's rights, LGBTQAI rights, equality and non-discrimination and feminist movement building;

Involvement with young women's organizations/initiatives working for women's rights, including time in a leadership role at a local, national, regional or global level;

Functional spoken and written one or more of the following languages English, French or Spanish language skills (and any other language is an asset: Portuguese, Russian, and/or Arabic)

Skills in such areas as project management, communications, workshop facilitation, capacity-building, movement building and/or monitoring and evaluation;
* We might consider one or two exceptional candidates above 35 years of age.
Experience in at least ONE of the following areas:
Fundraising experience, such as applying for or receiving monetary grants from a  donor  or organizing fundraising activities with individuals (ie. events or online crowdfunding)

Grant-making, international development, or funding institution (experience grant-making to young women's groups and/or start-up, small or community-based groups highly desirable)

Sex worker OR sexual & reproductive rights movement and a good knowledge of the issues and challenges faced by the movement

Sexual orientation and gender identity & expression (SOGIE) related issues and a good knowledge of SOGIE  organizations  and networks on the continent

Private sector especially in the areas of law, finance, accounting and/ or corporate social responsibility. Candidates must have an educational background that aligns with their current role in the private sector.
How to Apply:
Download and complete the 

New Advisor Application

. Please refer to the full FRIDA Advisors Terms of Reference

 

for more information.

Send completed applications to 

recruitment@youngfeministfund.org at the earliest or before November 1, 2016.
---
Contexte:
Depuis sa création, FRIDA s'est appuyé sur un Comité consultatif global composé essentiellement de jeunes féministes activistes venant du monde entier. Ces conseillères ont un rôle clé dans les domaines suivants:
Rôle médiateur dans le processus annuel et participatif d'attribution des bourses de FRIDA en pré-sélectionnant les candidatures, en examinant les résultats finaux et en assurant une vérification préalable;

Soutenir les capacités de développement et de communication avec FRIDA des partenaires bénéficiaires et mener des activités de sensibilisation;

Orienter la stratégie et les décisions programmatiques de divers domaines d'intervention de FRIDA au travers de groupes de travail thématiques comme la communication, les mobilisation des ressources, le développement des capacités et l'attribution des subvention;

Orienter la direction stratégique de FRIDA tous les 5 ans.
Conditions nécessaires pour êtres éligibles:
Âgée de moins de 35 ans au moment de la candidature*;

Au moins trois ans d'engagement prouvé à promouvoir les droits des femmes, les droits des LGBTQAI, l'égalité, la non-discrimination et la construction du mouvement féministes;

Au moins trois ans d'engagement avec des organisations/initiatives de jeunes femmes travaillant pour les droits des femmes, dont rôle dirigeant à au niveau local, national, régional ou global;

Anglais ou Français  ou Espanol parlé et écrit opérationnel

Compétences dans les domaines de la gestion de projet, la communication, l'animation d'ateliers, la construction de capacité, renforcement de mouvements sociaux et/ou le suivi et l'évaluation
*Nous pourrions envisager un ou deux candidats exceptionnels de plus de 35 ans.
Les candidates doivent aussi avoir au moins deux ans d'expérience dans au moins UN des domaines suivants:
Experience de collecte de fond, comme postuler pour ou recevoir des subventions monétaires d'un bailleur ou organiser des activités de collecte de fonds individuelles (ie. évènements ou crowdfunding en ligne);

Attribution de subvention, développement international ou institution de financement (experience dans l'attribution de subvention à des groupes ou start-ups de jeunes femmes ou des organisations communautaires très désirée);

Mouvement de défense des droits des travailleuses du sexe OU des droits sexuels et reproductif, avec de bonnes connaissances des difficultés et défis impliqués;

Thématiques relatives à l'orientation sexuelle et l'identité et l'expression du genre, et connaissance des organisations et réseaux du secteur sur le continent;

Secteur privé, particulièremnt dans le domaines du droit, de la finance, de la comptabilité et/ou de la responsabilité sociale des entreprises. Les candidats doivent avoir un niveau d'éducation en accord avec le poste actuel dans le secteur privé.
Comment faire une demande
Télécharger et compléter

l'application nouvelle conseilleure

. Se il vous plaît se référer aux Definitions des Responsabilités

 

pour plus d'informations.

Envoyer les demandes dûment remplies à recruitment@youngfeministfund.org dès que possible et avant le

01 Novembre 2016.