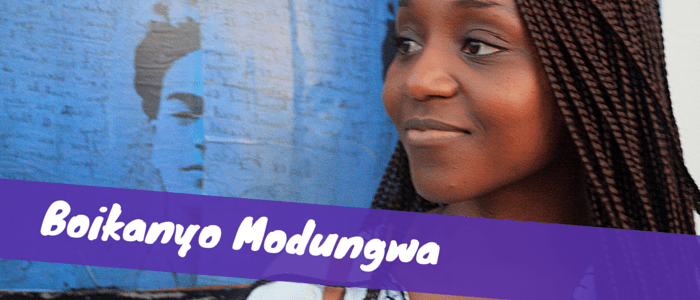 We are pleased to welcome Boikanyo Modungwa as Monitoring, Evaluation and Learning Officer as we continue to grow in our reach to our grantee partners spread all across the globe. She will help us in ensuring in key aspects of FRIDA's work that include programs, capacity building with young feminist activist groups around the world and knowledge building projects. Read more about her below.
Boikanyo Modungwa

Monitoring, Evaluation, and Learning Officer


Boikanyo is a young feminist from Botswana. For a year and a half, Boikanyo was based in Kenya having been deployed by the African Union Youth Volunteer Corps to serve in a Monitoring and Evaluation capacity at the Forum for African Women Educationalists: a pan-African girls' education NGO. In this role she coordinated, monitored and evaluated a range of gender responsive interventions; primarily, a Sexual and Reproductive Health and Rights project.

In 2014, Boikanyo served in Kenya's national technical working group commissioned by the Ministry of Education and UNESCO to assess the country's progress in achieving Education for All Goal 5 (Gender Equity and Equality in Education). This included the development of recommendations for the country's post-2015 agenda. Before joining FRIDA, Boikanyo also provided logistical and technical support to national implementing bodies in numerous African countries to improve the monitoring and evaluation of projects and their implementation processes.

In addition, Boikanyo has over two years' experience as a tutor in the Political Science Department of the University of Cape Town and has been involved in the development of a curriculum and lesson plans to enhance first year students' academic skills. Boikanyo holds a Master's degree in International Relations, an Honours' degree in Development Studies and a Bachelor's degree in Politics, Public Policy & Administration and Economic History all from the University of Cape Town. Boikanyo is currently based in Gaborone, Botswana.