FRIDA has grown tremendously over the last few years, in the sheer size of our community of young feminists, as well as, the amount of resources that we manage and hold responsibility for. Such growth must be accompanied by supporting accountability and transparency measures to ensure that we can continue building a feminist organizational culture of trust, honesty, and integrity. In this current stage of FRIDA's Strategic Framework, one of our core priorities is executing an organizational development process so that our internal systems and structures stay relevant to FRIDA's increased size, our staff members are safe, and able to thrive and grow within FRIDA. Emerging from this process has been the development of policies like FRIDA's Anti-Fraud, Anti-Corruption, and Obligation to Report Policy and now FRIDA's Whistleblowing Policy.
WHY DOES FRIDA NEED A WHISTLEBLOWING POLICY? WHAT DOES IT MEAN?
FRIDA has an existing Code of Conduct and Conflict of Interest Policy which mandate our community of young feminists across the world, including staff, Board of Directors, Grantee Partners, Advisors, and External Partners to maintain standards of integrity. These policies require that unethical behavior is brought to the attention of the FRIDA Board Co-Chairs, the Co-EDs, and/or the HR Manager. The Whistleblowing Policy has been developed to ensure fairness in the event that these individuals are involved in the incident. FRIDA recognizes the ways in which hierarchy and power can be silencing and in order to assuage any fear of partiality/reprisal/silencing, reports can be made to the Whistleblowing Committee to trigger an inquiry. The Whistleblowing Committee consists of 2 nominated members of staff, the HR Manager, 1 Co-ED, and 1 Board member. ​​The committee is bound by strict confidentiality and if a complainant has concerns around partiality or reprisal from one of the committee members, they may approach only one of the other members.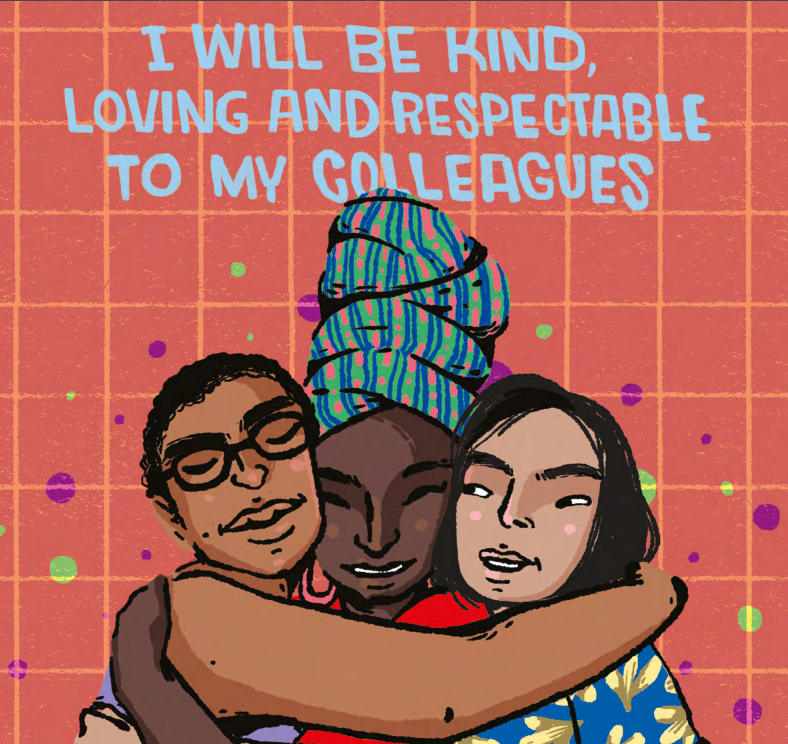 This policy provides guidance on how to raise concerns about malpractice in the conduct of individuals within FRIDA, our partner organizations, or any other organizations we are associated with. It aims to ensure that anyone can raise serious concerns with confidence and without having to worry about facing reprisal, being discriminated against, or being disadvantaged in any way as a result.
This policy is intended to deal with serious or sensitive concerns about wrongdoing throughout FRIDA (Staff, Board, Advisors, Grantee Partners, Members and External Partners), including the following:
conduct not in line with Canadian Law (i.e. Human Rights Code, Employment Standards Act, Canada Not-for-profit Corporations Act, etc)
bribery
fraud, theft, blackmail, manipulation or corruption
abuse of position for any unauthorised reason or for personal gain
professional misconduct, such as deliberate disregard for FRIDA's policies and Code of Conduct
discrimination against someone on the basis of race, ancestry, colour, religion, ethnic or national origin, disability, creed, caste, migration status, age, gender identity and expression, marital status, pregnancy, sex, sexuality, record of offenses, class or any other forms of identities
health and safety infringements
unauthorised use of FRIDA's resources
sexual, physical and/or psychological harassment and/or violence
Any attempts at cover-ups related to the above
In the instance of someone filing a complaint under this policy, the protection of the whistleblower from any reproach, bullying or unfair treatment is of utmost importance. As an organization registered in Canada, FRIDA adheres to Canadian law but we realize that it falls short in its protection of whistleblowers. FRIDA will refer to the law as the basic standard, but develop its own parameters in line with the feminist collective values of FRIDA's community. Committed to transparent processes, FRIDA will publish a public record of all the files made under the Whistleblowing Policy and the committee will rotate on an annual basis.
---
As young feminists working towards shifting power structures and radicalizing what it means to work in philanthropy, it can sometimes feel stifling to work within the confines of legal structures and systems that were not built for us to flourish. And so, as we work to build the feminist future that we all deserve, it is our duty to constantly reimagine and utilize the tools which we have available to us to ensure that our community has what it needs to thrive.