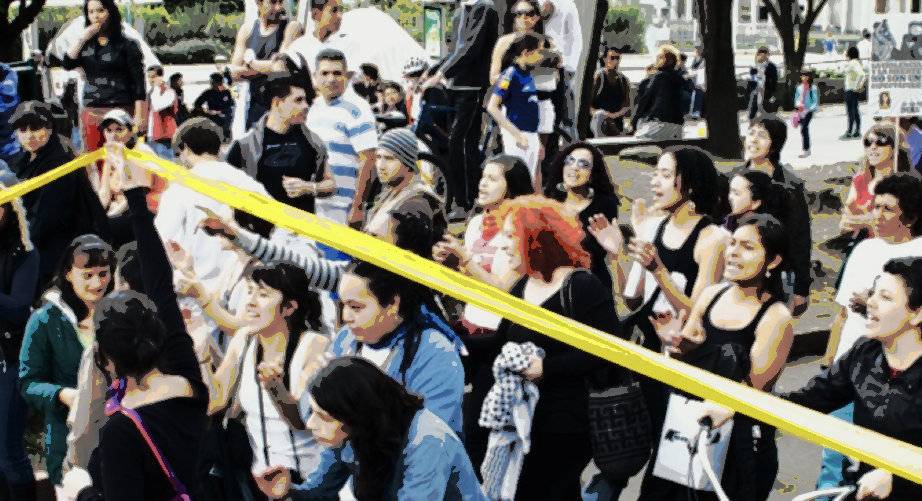 By Devi Leiper O'Malley and Ruby Johnson, FRIDA Co-Coordinators
This October, the Nobel Peace Prize was awarded to Malala Yousafzai. Malala's fierce commitment to education for girls everywhere demonstrates the courage and incredible contributions of girls and young women in fighting for justice and the human rights. She is extraordinary no doubt, and deserves the world's congratulations.  But there's a larger problem afoot worth acknowledging, which happens whenever we single out a young woman and make a star of her, and not her political claim. The predominant trend in mainstream culture to create cults of personality casts a veil over the hard work of collective organizers, and fails to tell the important story of how social change actually occurs.
Individual hero worship has been a hot topic over the past few weeks, whether discussing Emma Watson or Beyoncé. But the conversation on the dangers of idolization in human rights work has been long standing, flaring up recently with the falls from grace of figures like Somaly Mam and Greg Mortensen or the lack of attention given other child activists like Nabila Rehman. Our critique is not focused on these individuals themselves, but the system that creates the pedestal.
We want to counter the system by placing greater focus on groups of young women, girls, and trans*youth who tirelessly bring about change in their communities. Following in the footsteps of the 1000 Women for the Nobel Peace Prize, lets recognize the collective work of many, whether through community radio in Nepal (Radio Udayapur) or newspapers in Afghanistan (Ruidad Weekly), or working with indigenous girls in Nicaragua (Grupo de Mujeres Xitlali) or female school children in Burkina Faso (Collectif Vivre Ma Vie).
Led by people under 35, many of the groups are already mentoring the next generation to ensure sustainable change like the girl mentoring program of Womantra in Trinidad in Tobago and the girl groups of Helping Hand and CSDC in Georgia. Similar to the co-director model we use at FRIDA | The Young Feminist Fund, we also see many groups resisting the tradition to create top-down hierarchies in their organizations, opting for more flat structures and refusing to name one individual as the CEO.
These groups' commitment to collective approaches is critical as longitudinal studies have shown: "Countries with the strongest feminist movements tend, other things being equal, to have more comprehensive policies on violence against women than those with weaker or non-existent movements. This plays a more important role than left-wing parties, numbers of women legislators, or even national wealth."
And yet, the feminist movement continues to be underfunded, despite the growing popularity of "investing in women and girls." As the Association for Women's Rights in Development has shown, women's rights organizations continue to remain small – often not by choice – but due to the challenge of raising financial resources to power their work. The needs of grassroots and community-based organizations are overshadowed by initiatives focused on individual entrepreneurship and micro-credit that often fail to address structural inequalities.
To be sure, the movement is made up of extraordinary individuals. Indeed, it is through their personal stories that we can relate to their experiences, be empathetic to their situation, and be moved to support them. But until the narrative situates these individuals in context of organizations, movements and their cause, we'll continue to move at a slow pace. No better person understands this than Malala herself, "The thing is, they can kill me. They can only kill Malala. But it does not mean that they can kill my cause."
—-
A similar piece on the "dangers of turning social innovators into celebrities" has recently been written by Kriss Deiglmeier of the Tides Foundation. Read it here.