In March 2015, FRIDA traveled to Tunis, Tunisa to attend the World Social Forum as advisors, staff, and grantees. Attending The Forum is a key part of FRIDA's strategy to connect with more young feminist activists in the Middle East and North Africa region, and increase and deepen the level of our support for their organizing. With our advisors, we organized two events that were well attended by young feminist activists and we were also pleased to support the participation of a representative from one of our newest grantee partners, Asurif, from Algeria. We also met members of other FRIDA grantee partners, Fe-Male from Lebanon, and Chouf from Tunisia.
As one of the rare global spaces for different progressive activists to come together, we were eager to see the Forum as site for young feminist activists to be seen and heard. Below we share four experiences of the Forum, directly told by the young feminists that attended.
Anonymous from the organization Aswat in Morocco

 

I am a female activist from the LGBTI and queer community from Morocco, who took part of the activities held in the World Social Forum in collaboration with other LGBTI and queer activists from Tunisia.
Many of our actions were spontaneous and radical in the good sense of course.
Being spontaneous does not mean at all that we were not organized as a group. On the contrary, we got a lot of attention and some journalists came, read our signs, took our photos, and asked us about our demonstration.
We demonstrated against violence and terrorism through love signs and rainbow flag as our first action against all forms of discrimination including homophobia and transophobia. This action took place alongside the big demonstration against terrorism in Tunis which opened the WSF. Then we had a second demonstration inside the campus of a university.  For me it was a good way to start the WSF, getting in with the rainbow flag, repeating a slogan in Arabic which says: "with love we change, not with war, and no violence could stop us". It was a positive action for me and I guess it was for all of us.
All was good till the last action during the last day of the WSF, in which we tried to raise awareness through our songs that talked about articles 489 and 230 in the penal code in Morocco and Tunisia that criminalizes homosexuality. These articles stipulate that all persons caught in homosexual act be put in jail from 6 months to 3 years.
We had a sign that says in Arabic, Mithly mithlak, which means "we're equal, what does homosexuality mean to you?" and invited people to express what they think and feel about homosexuality.  People started gathering over us asking us questions about the law in the both countries. This was all right. But, then other people came and started attacking and criticizing us and treating us like crazy people. They asked us to leave the campus, accusing us of provoking sick behavior. Some of them got very verbal agressive with insults and sarcasm and homophobic discourse. Even the security agent from the WSF was aggressive with us and asked us to leave the campus immediately which was quite awkward.
We tried to explain politely to people that we were not there for a debate we just wanted to express ourselves and show the injustice in both countries faced by the LGBTQI communities, which we thought was part of the purpose and principles of the WSF.  There were a lot hate-speech and homophobic actions. So, that was the most and might be the only negative attitude we've got since we began our actions.
Ali Mawjoudin (We Exist), Tunisia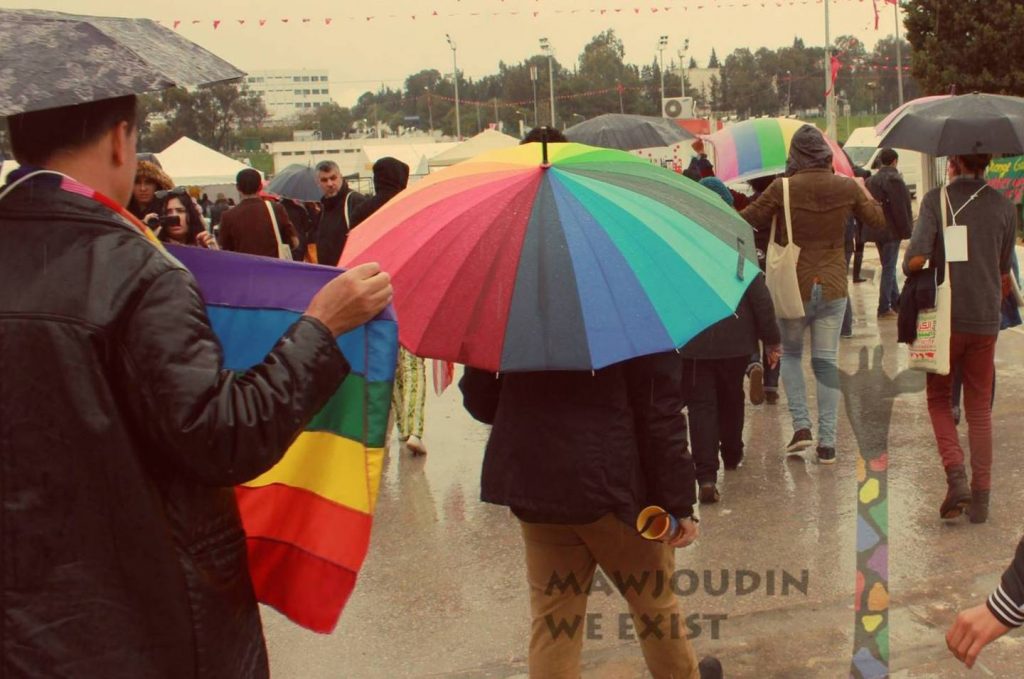 For my organization, it was clear that we should take advantage of the World Social Forum being held in Tunisia to organize a small activity, but most importantly, meet other activists from all over the region and especially from different parts of Tunisia. Meeting other activists gave us a great strength and confidence, to such an extent that we made ourselves very visible throughout the forum. The first days our activities gathered a lot of positive results.
On this last day we asked people to speak about homosexuality by writing messages on placards. Soon into the activity, we were attacked and verbally assaulted by Islamists and leftists telling us we were being agents of the west, we were manipulated,that it was not the time for such a discourse! Even a man who is part of the Forum's security attacked us with homophobic comments and did everything to get us out of the campus while insulting us. 
"It's homophobia that must be cured!"
That is what I said in response to a homophobic person who tried to hit my friend H., a Moroccan who was holding the rainbow flag. The attacker replied with this threat:
"Come out and you will see how it will happen for you all!"
At one point there were journalists who wanted to know what was happening and why all these people were shouting at us. We were trying to explain to them when two homophobic men came around us and began to shout "Why are you playing the victims in front of the camera and lying you sick people!"
I said, "Mr. here is a real example of a verbal assault we are experiencing. You could just say it quietly without resorting to insults. "
I  don't want to throw the blame on a specific group for these attacks. Because while we experienced this violence from certain individuals belonging to certain groups, we also had respectful discussions with young Islamic girls and we had the support of a few people from the left.
Ultimately, I believe that fundamentalism is the cause of this violent behavior, and anyone can adopt this mentality: the elite can be fundamentalist, someone from the left can be fundamentalist, a cultured person who has traveled can be fundamentalist!
Homophobia must be criminalized. Apart from the fact that it is unacceptable and enables discrimination and violence based on one's sexual orientation, without the criminalization of homophobia, members and allies of the LGBTQI community are unable to seek justice. You cannot file a complaint and access justice because at the police station they do not recognize homophobia and much worse, they can end up arresting you instead.
Despite this negative experience, we remain hopeful because a lot of positive things happened at the Forum. Many people who needed help and did not know who to talk to came to us, and we expect others to approach us still. We had a lot of support from people who want to help us including students, doctors, lawyers and others. To focus on the positive, and overcome the negative, I want to thank my Tunisian friends of the association Without Restrictions and my Moroccan friends from the collective Aswat.
Without them, all this would not have been possible.
Houria from Asurif (Step Forward), FRIDA grantee partner in Algeria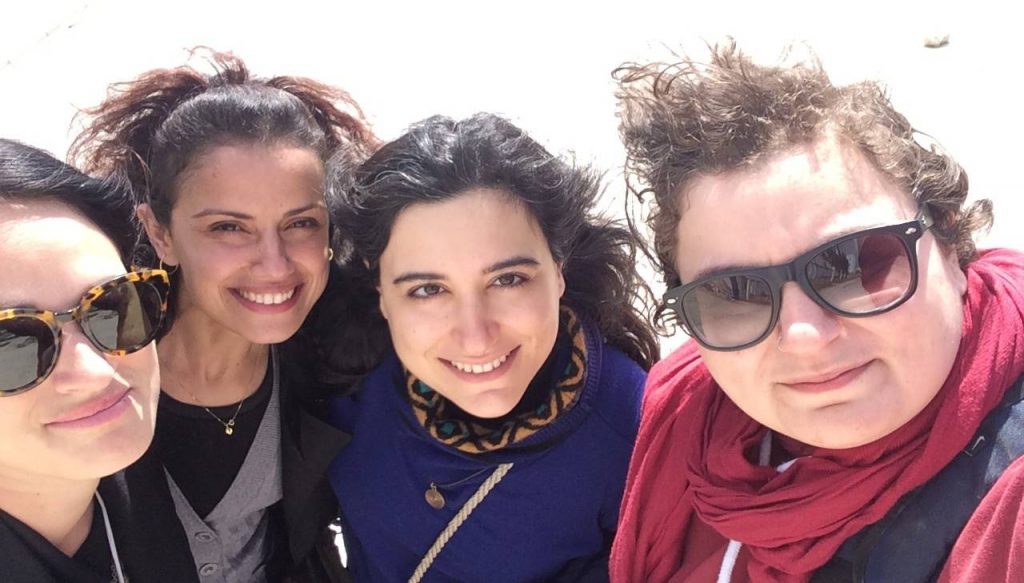 I am member of a feminist organization in Algeria, that works particularly in the Kabylia region. We received a grant from, FRIDA Young Feminist Fund in 2014. FRIDA's team offered to support my participation at the World Social Forum, and make my experience easy and positive.
I took the flight at 15:45 from Algiers airport to that of Tunis. Soon I found Ghiwa and Chantal, two of FRIDA's advisors in the MENA region, welcoming me to go directly to our accommodation. In the evening, I talked with the girls to get to know them better, I presented myself and my status in our organization and in society.
The next day, I went with them to the first day at the forum. After consulting the program I attended a session by AGORA Association. Later on I took part in the activities organized by FRIDA that brought together different young feminist activists in the region. At this event, I summarized the activities of ASURIF. Our organization tries to open important debates about society through the feminist mobilization of university-level young women and the empowerment of rural women who work in organic farming. Not only are we forming young feminists to become active agents in our society, but we are also strengthening the leadership of young women and their socio-economic possibilities.
Later that day, I attended other events from different organizations and associations from Morocco, Tunisia, and Egypt that covered different themes such as women's rights, homosexuality, language, and more. I got to know different people of the world and kept their contacts for the future. Everything was overwhelming and there were many activities. It gave me great pleasure to see it all unfold.
I visited a few sites with the girls; such as Marssa Bourguiba Boulevard and the sea. We also  took advantage of shopping and buying  a few souvenirs. We had fun with short walks downtown, and ate well in different restaurants.
Communication with the girls was limited in some way, because there were language barriers. Ruby speaks English and I, French, so it made me uncomfortable at first. But Ruby quickly found a way to communicate through her laptop and translated both languages, and it made me really happy.
All in all, my participation in the World Social Forum was a great experience and a great benefit because I learned a lot of things. Concrete events gave me the courage to go and fight for our rights on different levels.
Ghiwa Sayegh, FRIDA advisor 
The two events we organized – one of which was held at the WSF, and the other, more informal, at the Amnesty Office in Tunis – attracted a crowd of young activists, mainly from North African countries, who work on sexual rights and minorities. We were able to meet representatives of burgeoning groups and initiatives, and have extensive conversations with them on their activism. Tensions and divisions within the feminist movement were reported to us, especially that minorities and young activists are relegated to second place. The lack of funding was also an issue, since resources are monopolized by bigger and older organizations who might not always be aware of intersectional politics. Young activists from the MENA also face security threats (physical and cyber) in their home countries, which makes it very difficult for them to work on changing certain laws related sexual rights and to challenge the status quo, whether socially or legally.
As FRIDA, we raised the possibility of organizing capacity building regional meetings and encounters in order to create conscious activism. We went back home inspired by the courage and perseverance of regional young activists; their reflections on their own context pave the way for grassroots change and activism.
From that trip, we particularly remember how well we were taken care of. Young feminists went out of their way to welcome us and introduce us to colleagues and fellow activists. The WSF – formally and informally – was the right space for magical encounters and sparks to happen; it gave us hope to keep us going in our struggle.