Por Georgina Orellano, Secretaria General del Sindicato de Trabajadorxs Sexuales de la Argentina (AMMAR CTA), y Armario Abierto, organización comunitaria que trabaja en la defensa de los derechos de las mujeres trans en Colombia
¿Qué tienen en común la calle Las Guapas, la 20 y Parque Bolívar, en Colombia, y el barrio Constitución, en Buenos Aires, la plaza Martín Fierro, en Entre Ríos, y los alrededores de la terminal de ómnibus en San Juan, Argentina? Todos son lugares donde lxs trabajadorxs sexuales tenemos un punto o una esquina para ofrecer nuestros servicios y mejorar nuestros ingresos.
Habitar y trabajar estos espacios no es fácil. En cada uno de nuestros países, existen normas que criminalizan nuestra actividad y le otorgan poder a la policía para perseguirnos, revisar nuestras pertenencias y detenernos arbitrariamente. Estas normas agudizan la violencia institucional y generan la mal llamada "caja chica", ya que tenemos que pagarles a los policías para que nos dejen trabajar tranquilas.
A la persecución policial que vivimos constantemente se suman el estigma y la discriminación por parte de vecinos de las zonas de trabajo sexual. En varias oportunidades nos hemos enfrentado a grupos de vecinos que piden que nos expulsen, que nos lancen a los márgenes de las ciudades. Que "clandestinicen" cada vez más nuestro trabajo.
Nosotrxs, desde nuestras organizaciones, exigimos la garantía de derechos. Durante muchos años fuimos un sector invisibilizado, pero hace más de dos décadas empezamos a alzar nuestras voces para exigir que el trabajo sexual sea reconocido como un trabajo y de esa forma acceder a obra social, jubilación, entre otros derechos. Las putas existimos y necesitamos salir de la clandestinidad.
En el contexto de pandemia por COVID-19 estos reclamos se hicieron más urgentes. Los decretos de aislamiento social obligatorio impactaron drásticamente en nuestro sector porque no tuvimos posibilidad de continuar trabajando y muchxs tuvimos inconvenientes para acceder a necesidades básicas como alimentación, elementos de higiene, abrigo o ropa para nosostrxs y nuestrxs hijxs.
Las putas existimos y necesitamos salir de la clandestinidad.
En Argentina, una consulta hecha por AMMAR durante la pandemia reveló que 86% de lxs 2.040 trabajadorxs sexuales contactadxs son jefxs de hogar y el 96% manifestó alguna necesidad básica – alimentaria, de productos de limpieza, abrigo o ropa. La mitad afirmó haber sufrido algún tipo de violencia, siendo la institucional y la de género las más comunes.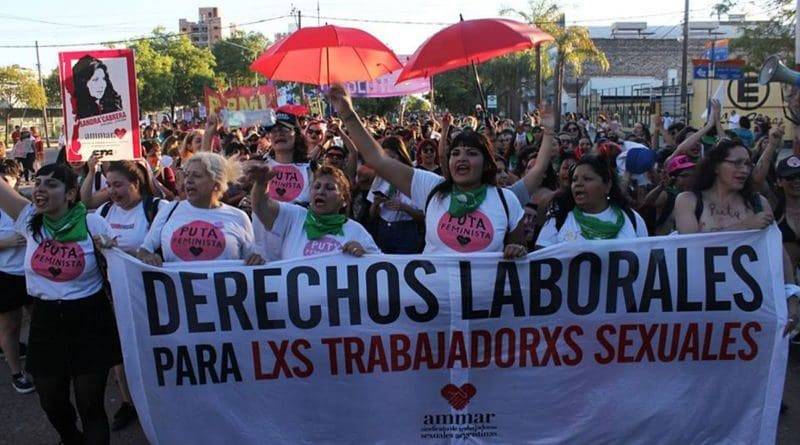 Además, la crisis habitacional a la que estamos expuestas lxs trabajadorxs sexuales se hizo evidente. En el marco de la crisis sanitaria era casi imposible o muy riesgoso trabajar. Las deudas de alquiler se acumularon y, al tener solo contratos de palabra, debido a la falta de documentación que pruebe nuestros ingresos, algunos dueños amenazaron con desalojarnos, aunque estuviera prohibido por decreto. En la mayoría de los casos, en ausencia de contratos formales, los montos de alquiler que pagamos son el triple de los oficiales. En el caso de lxs compañerxs travestis y trans que viven principalmente en cuartos de pensiones, con baños compartidos y a veces hacinadxs, hubo dueños o encargados que les cortaron los servicios como luz y agua.
La violencia institucional también se recrudeció y tuvo mayor impacto en la población travesti/trans. Hubo denuncias de compañeras que sufrieron persecución policial en situaciones cotidianas para lxs trabajadorxs sexuales como ir a un comercio de barrio, a un comedor comunitario o a la farmacia. El principal argumento del accionar policial fue el incumplimiento del aislamiento social. En Manizales, Colombia, durante tres semanas entre octubre y noviembre, se registraron 12 hechos de abuso policial.
En el vacío dejado por el Estado, autogestión, solidaridad y acción
Frente a esta situación, lxs trabajadorxs sexuales empezamos a gestionar asistencia humanitaria y a generar redes de apoyo desde nuestras organizaciones de base. Es así como fortalecimos el trabajo territorial que llevamos adelante desde AMMAR en Argentina y desde Armario Abierto en Colombia para dar respuesta a nuestras compañerxs.
La tarea principal era garantizar el acceso a alimentos. Por esa razón creamos comedores comunitarios y articulamos con instituciones estatales y otras organizaciones de la sociedad civil para entregar bolsones de mercadería y productos de higiene. De esta forma no solucionamos la problemática pero ayudamos a que fuera más llevadera.
Desde el principio supimos que solo era posible enfrentar esta situación de manera colectiva y creamos Fondos Nacionales de Emergencia para recibir donaciones. Desde nuestras redes sociales, invitamos a la población en general a ayudarnos con aportes en dinero o en especie y la respuesta fue muy positiva. Recibimos alimentos, ropa, colchones, estufas, frazadas y medicamentos que entregamos a nuestrxs compañerxs. También aportes económicos que destinamos a los pagos de alquileres o adelantos para que ningunx compañerx quedara en situación de calle.
Otras acciones que emprendimos fue la asistencia jurídica para evitar los desalojos y el acompañamiento psicológico para lxs trabajadorxs sexuales que nos lo solicitaran. Cada vez que recibíamos un llamado por amenaza de desalojo nos acercábamos al lugar para evitarlo.
Durante la pandemia, en el caso de Argentina, la Casa Roja, nuestra sede en Constitución, se convirtió en un centro de asistencia integral para lxs trabajadorxs sexuales que atiende a 700 personas por semana. Para el sostenimiento no recibimos ningún apoyo estatal, la creamos y la autogestionamos lxs trabajadorxs sexuales.
Ya en Manizales, Colombia, fundamos la Casa Refugio Transfeminista, adonde lxs compañerxs que necesitan encuentran hospedaje y alimentación en un espacio seguro y libre de discriminación. Es allí también que grabamos nuestro noticiero "Notiguapas", con reportajes especiales que hacemos sobre temas importantes, como el trabajo informal y el sistema de salud. Nuestras narrativas importan.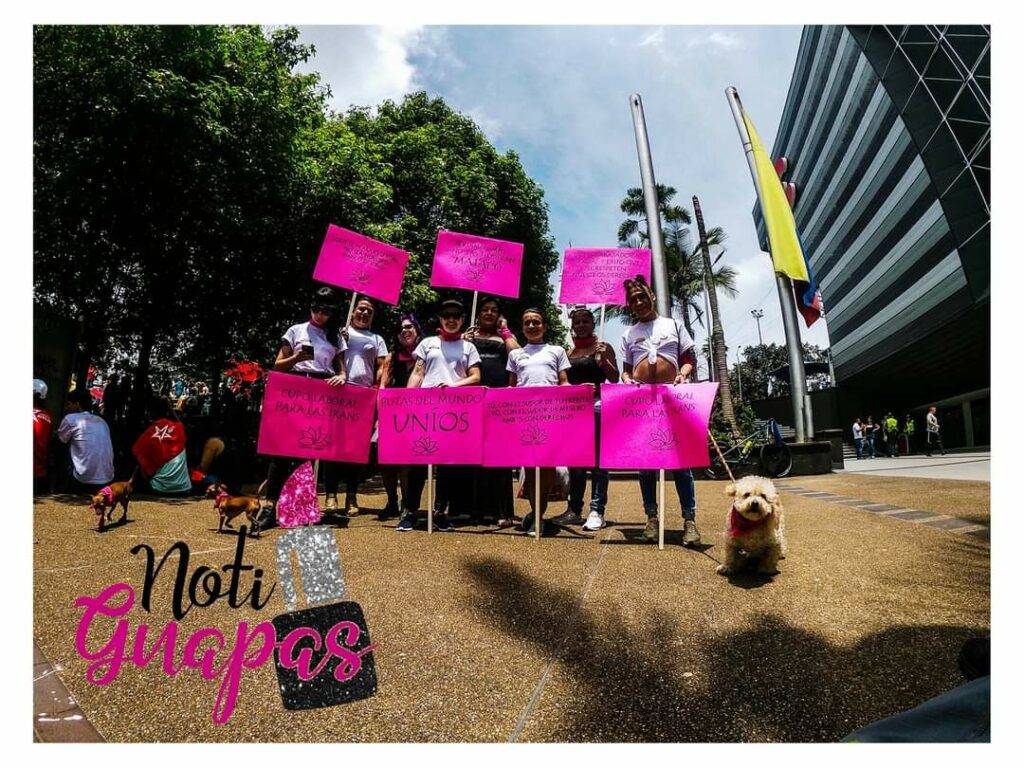 La crisis por COVID-19 hizo evidente la desprotección histórica a la que nos hemos enfrentado lxs trabajadorxs sexuales en materia de salud, vivienda y otros derechos básicos. Por esa razón, en el marco de la campaña global #16DíasdeActivismo por el Fin de la Violencia contra lxs Mujeres, que este año enfoca lxs mujeres que hacen el trabajo informal y que termina este Día Internacional de los Derechos Humanos, hacemos un llamado urgente a los Estados a escuchar nuestras voces y a convertir en políticas públicas nuestras demandas.
Que descriminalicen el trabajo sexual y nos reconozcan legalmente como trabajadorxs.
La clandestinidad y la criminalización no sólo nos exponen a mayor violencia institucional, sino que hacen que nuestras vidas valgan menos porque nuestra existencia social no está reconocida. El trabajo sexual es trabajo.
What do the streets Las Guapas, 20 and Bolívar Park, in Colombia, have in common with the Constitución neighborhood, in Buenos Aires, the Martín Fierro square, in Entre Ríos, and the area around the bus terminal in San Juan, Argentina? They are all places where sex workers have a spot, or a corner, to offer their services, and enhance their income.
Living and working in these places are not easy at all. There are regulations that criminalize our activity in our countries, and that give to the police the power of persecuting us, inspecting our purses, and, arbitrarily, detaining us. These norms increase institutional violence and make us have to pay bribes to the police to let us work in peace.
The police persecution that we constantly experience is compounded by stigma and discrimination from neighbors that live near sex work areas. On several occasions, we have faced groups of neighbors who asked the authorities to expel us, to enforce us to work at the outskirts of the cities, and to criminalize our labor more and more.
From our organizations, we demand the guarantee of our rights. Many years ago, we were an invisible work force. But more than two decades ago we have begun to raise our voices and to speak up for the recognition of sex work as work and, thus, for us to access welfare benefits, as retirement, among other rights. We, hookers, exist, and we need to come out of the shadows.
In the context of the COVID-19 pandemic, these claims became more urgent. The social distancing requirements had a drastic impact on our sector, since we couldn't work and many of us started to face problems in accessing basic needs such as food, hygienic items, shelter and clothing for ourselves and for our children.
In Argentina, a survey conducted by AMMAR with sex workers during the pandemic revealed that 86% of the respondents were householders, and 96% of them expressed some basic need – food, cleaning products, shelter or clothing. Half said they had experienced some kind of violence, with institutional and gender-based violence being the most commons.
In addition, the housing crisis to which we are exposed became evident. Without work, rent debts accumulated. Since we have only verbal contracts, due to the lack of documentation proving our income, some owners threatened to evict us, even though it was forbidden by decree. In most cases, in the absence of formal contracts, the amounts of rent we pay are three times more expensive than the official rates. In the case of transvestites and of trans people, who live mainly in boarding houses, with shared bathrooms and sometimes overcrowded, there were owners who cut off services such as electricity and water.
The institutional violence also increased and had a bigger impact on the transvestite and transgender population. There are reports of persecution by the police against transvestites and trans people in daily activities, such as going to a shop, a community restaurant, or a pharmacy. To justify the persecution, police officers used the excuse of imposing social distancing. In Manizales, Colombia, during three weeks in October and November, 12 acts of police abuse were reported.
In lack of official measures, self-organizing, solidarity and action
In response to this situation, we began to manage humanitarian assistance from our grassroots organizations. This is how we strengthened the territorial work that we carry out from AMMAR, in Argentina, and from Armario Abierto, in Colombia, in order to provide response to our communities.
The main task was to ensure access to basic items. That is why we set up community restaurants, and coordinated with state institutions and other civil society organisations to deliver food and hygiene products. This way, we did not solve the problem, yet we helped to make these difficult times more bearable for our partners.
From the beginning, we knew that it was only possible to deal with this situation collectively, so we created National Emergency Funds to receive donations. In our social media, we invited the general public to help us with money or basic items, and the response we got was very positive. We received food, clothes, mattresses, cookers, blankets and medicines that we delivered to our communities. We also provided financial resources for them to pay rent so that none of them would be left on the streets.
Other actions that we carried out include legal assistance to prevent evictions, as well as providing psychological support for sex workers who requested it. Every time that we received a call for threatened eviction, we approached the site to prevent it. During the pandemic, in case of Buenos Aires, Argentina, the Red House (Casa Roja), our headquarters in Constitución neighborhood, became an assistance center for sex workers. We attend to 700 people per week. We did not receive any state support, but we created and managed it for sex workers. In Manizales, Colombia, we founded the Transfeminist Shelter House, where partners who need find shelter and food in a safe space, free from discrimination. It is also there where we record our news TV show "Notiguapas", with stories about important issues for us, such as informal work and the health system. Our narratives matter.
The COVID-19 crisis made evident the historical lack of protection that sex workers have faced in terms of health, housing and other basic rights. For that reason, on this Human Rights Day, that closes the global campaign 16#DaysofActivism Against Violence Against Women, which this year focuses on women who do informal work, we urgently call on our Governments to listen to our voices, and to turn our demands into public policies.
They must decriminalize sex work and legally recognize us as workers. Lack of formal recognition and criminalization expose us to more institutional violence and make our lives worth less because our social existence is not acknowledged. Sex work is work!