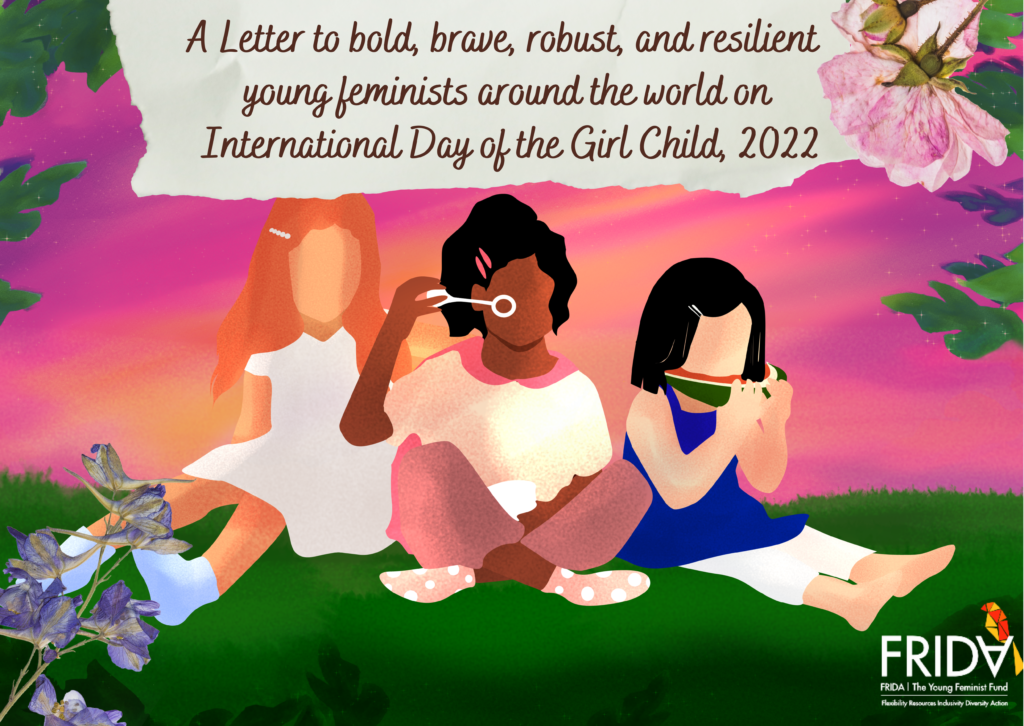 Happy International Day of the Girl Child, 2022!
October 11, 2022 commemorates the 10th anniversary of the International Day of the Girl! Today, we pen a letter to bold, brave, robust, and resilient young feminists who are driving change around the world.
Eleven years ago, the ​​United Nations General Assembly adopted a Resolution to recognize the importance of girls' rights and the obstacles they face in challenging contexts across the world. Today, girls are still fighting against issues like violence, period poverty, barriers to accessing education, and exclusion from decision-making processes due to silencing, ageism, and sexism.
You are fighting for your futures while carrying the harrowing weight of ongoing simultaneous crises like climate change, COVID-19, wars, conflicts, and political crises on your shoulders. As young feminists, many of us feel stuck in uncertainty, desperation, anxiety, and loss. Young feminist communities across the global majority are also deep in decolonization work which unearths unhealed traumas.
In many ways, our communities feel broken, hurt, and drained. Amidst all of this, young feminists we see you. You have been doing the work to support other girls and resist violent regimes that abuse their power and violate your fundamental rights with impunity.
Today, we acknowledge all of the work you are leading to ensure a better feminist future. We celebrate your braveness, tenacity, and consistency. Patriarchy works hard to convince us that girls don't make a difference; that young feminists are powerless in the face of oppression. But today and every day we reiterate that there isn't anything or anyone that can strip you of your power in your journey to liberation and freedom.
Young feminists, you matter! Your perspective matters, and the work that you do matters. You are worthy, enough, loved, and needed, no matter your identity, size, ability, color, who you love, or what you are passionate about.
In this fight for liberation, we hold on to each other to make feminist movements more powerful, louder, and intersectional. True feminist solidarity exists and it is unbreakable; based on common trust, and care and that is worthy of celebration!
With love,
All of us at FRIDA
---