This year, Trans Day of Visibility is being observed at a time when trans people in many parts of the world are facing imminent threats to their safety, security, and human rights.
Trans youth have specifically been targeted, exacerbating the unique challenges and barriers they often face, including lack of access to services, bullying, harassment, and rejection from family, peers, and society. These challenges have a significant impact on their mental and physical health, and can even lead to homelessness, substance abuse, and suicide.
As has been well-documented by trans rights activists and their allies, current rollbacks in the advances of the trans movement globally are being fueled by a moral panic that has been manufactured and financed by anti-gender groups who are in coalition with trans exclusionary groups and authoritarian forces.
On this Trans Day of Visibility, it is critical that we speak out against the harmful and discriminatory actions of anti-gender movements toward trans youth. These movements promote harmful and dangerous ideologies that seek to erase the identities, experiences, and rights of trans people and, in doing so, perpetuate harmful stereotypes and myths about gender and identity. We must reject these harmful ideologies and support trans youth by creating the conditions for them to be able to advocate for their rights, dismantle the systems of oppression that affect them and counter the bad-faith actors that target them.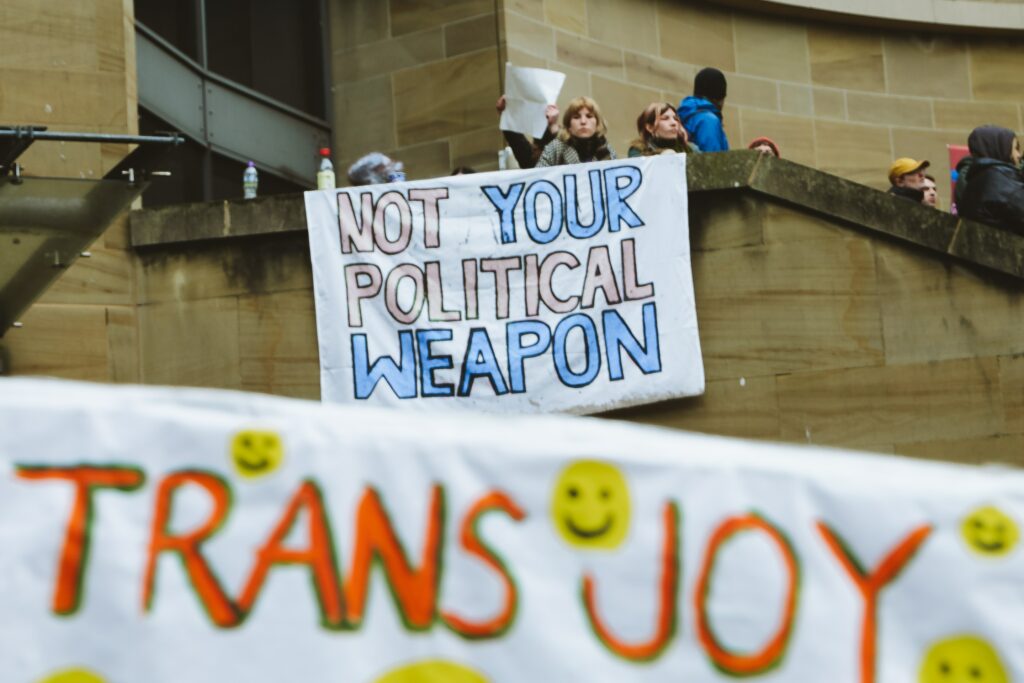 Trans youth are a valuable and integral part of our communities, and they deserve to live their lives with dignity, respect, and without fear of discrimination, harassment, or violence. Today and every day, let us stand in solidarity with transgender youth and affirm their right to self-expression and self-determination.
We must support their struggle for a world where they can live their lives free from discrimination, prejudice, and violence. We must create and sustain a world where they have access to healthcare, education, employment, and community, as well as laws and policies that recognize their gender identities. On this Trans Day of Visibility, we honor FRIDA trans grantee partners who continue to imagine, innovate, resist, organize, and experience joy in these times of intersecting crises.
Spectra has a vision of a society where all persons enjoy equal rights and treatment, where all identities and bodies are respected, and where all of our differences are celebrated. Their mission is to create a strong, visible, and influencing decision-making movement which aims to make the respect of human rights of trans and intersex persons in Montenegrin society a reality. With their FRIDA Trans Special Grant, Spectra intends to host a "Feminist School of Solidarity" which will be a week-long event dedicated to feminist, antifascist, and leftist learning, networking, and movement strengthening.
ThaiConsent, Thailand
ThaiConsent was started as a response to seeing many people talking about sexual abuse cases and how the victims struggle to obtain justice. The group is interested in the concept of power relations and consent, and incorporating art to express their views about it. With their FRIDA Trans Special Grant, ThaiConsent wishes to address the perception of the Thai feminist movement as being trans-exclusive by building stronger cross-movement solidarity through hosting cross-movement dialogues and exchanges between trans activism and feminist activism.
Armario Abierto's mission is to contribute to the construction of fairer living conditions that are free of violence for women who assume gender identities and/or exercise dissident sexualities. They focus their actions, especially on trans women who, due to the conditions in which they carry out sex work, find themselves in situations of vulnerability. With the FRIDA Trans Special Grant, Armario Abierto seeks to strengthen the ties between a network of trans organizations in Latin America. This will involve intercultural exchange that will facilitate learning about the ways of working among these organizations to strengthen each of them.
Feminist Network, Lebanon
Feminist Network's mission is to address sexual and gender-based harassment experienced by all women and trans people in public and private spaces in Lebanon, through community-building, capacity-building, and feminist knowledge-sharing initiatives. The FRIDA Trans Special Grant will enable Feminist Network to provide direct mutual aid support like rent, medicine, and food to the trans community in Lebanon. This will serve trans people (particularly trans refugees) who are struggling to survive due to the ongoing economic collapse in Lebanon and who are already unable to work due to the transphobic society/state.
"Our vision is a world where there is accountability for sexual and gendered violence against all women and trans people. A world where we can take up space unapologetically and freely, and where we can safely and creatively express our sexual and gender identities. A world filled with intersectional feminist solidarity, knowledge, and community." – Feminist Network, Lebanon
TransSwati, eSwatini
The lack of trans community representation in the development sector in eSwatini led to the formation of TransSwati. The group envisions country-wide equality for transgender people so that they can have access to all public services. Their mission is to enhance the livelihood of transgender people in eSwatini through an intersectional approach to advocacy and programmatic activities that target the youth, healthcare, law enforcement, economic empowerment, education, culture, religion, and broader societal attitudes. The FRIDA Trans Special Grant will allow TransSwati to attend training outside the country on advocacy and litigation which is important for their work in advancing trans rights and legal gender recognition.
I am One is a community-based organization in Trinidad and Tobago that seeks to address the needs of gender and sexual minorities by building community and providing safe spaces, education, and expressive platforms for empowerment. The FRIDA Trans Special Grant will support the group to recruit trans people to work on a social enterprise that they are currently building. The grant will assist in the path toward the long-term sustainability of the organization – and provide tangible resources to members of the trans community along the way.
FRIDA stands in solidarity with trans youth and through the Trans Strategy, we have committed to continue fighting against the discriminatory actions of anti-gender movements. Additionally, we have committed to move increased resources to trans movements globally so that they may fight back and win. In 2022, FRIDA awarded 41 special grants to the tune of USD $302,700 to trans-youth-led groups and their allies. The grants went towards a vibrant and creative variety of interventions such as alliance building, travel and networking, knowledge co-creation, security, safety, and healing as well as community resilience strengthening. We invite you to consider becoming a resource ally to FRIDA and investing in the work and dreams of trans-youth led groups that are working to sustain and transform our communities.